Tony Pulis tells Peter Crouch to carry on scoring for Stoke after missing England call
Tony Pulis has told Peter Crouch the best way to force his way back into the England side is to keep going as he is.
Last Updated: 05/10/12 3:26pm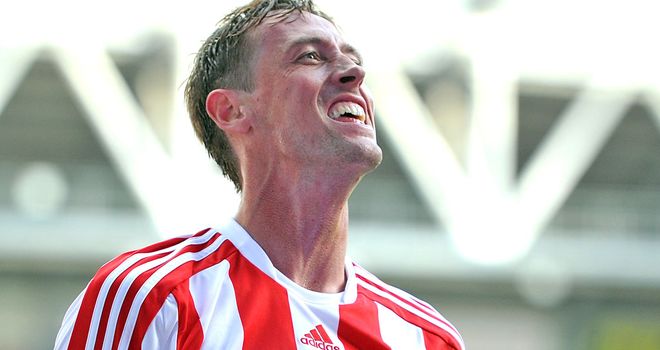 There was mixed news for Stoke when Roy Hodgson named his latest England squad on Thursday, with Ryan Shawcross getting called up but Crouch being left out.
While Pulis is pleased that Shawcross is getting the recognition he thinks he deserves, the Stoke boss was frustrated about Crouch's continued absence from the England set-up, especially after he underlined his credentials by scoring both goals in the 2-0 win over Swansea City last weekend.
"I spoke to Peter about it (not getting an England call-up) and said the best thing Peter can do is keep doing what he is doing," Pulis said.
"He's played exceptionally well last year and he's started this season on fire. He's been our best player probably over the games we have played and his goal tally is very, very good and we're very pleased with him.
"We've been a bit disappointed that one or two [Stoke players] over the last two years haven't got that reputation.
"With Matthew Etherington, I thought at one stage he should have been playing for England, or Ryan, and we're disappointed that Peter has not been selected.
"But, having said that, the lads are experienced enough and they're at a good football club that will look after them and supporters that idolise them in lots of respects."
Role model
Pulis added: "We're really delighted for Ryan as an individual. He's a fantastic footballer. He's been brilliant since he's come to this football club.
"We're absolutely delighted as a city, as a football club from the chairman right through to the youngest lad in the academy.
"He's a role model not just on but also off the pitch and we're delighted he's got the recognition."
However, Pulis was quick to shrug off suggestions that Stoke players might be getting overlooked for international call-ups and backed Hodgson in what he believes is one of the toughest roles in the game.
"Roy has a very difficult job, if not the most difficult job in English football," Pulis said.
"He has a responsibility to himself, his coaching staff and the nation to pick the side he thinks is good enough.
"He's got enough experience and enough knowledge to get on with that and do it to the best of his ability.
"If he picks Ryan, then absolutely fantastic. If he doesn't pick Peter then we're disappointed but we understand."