Stoke boss Tony Pulis admits his team will need some luck against Liverpool
Tony Pulis admits his side will need 'a few breaks' against Liverpool on Sunday but is confident they can get a result
Last Updated: 06/10/12 8:34pm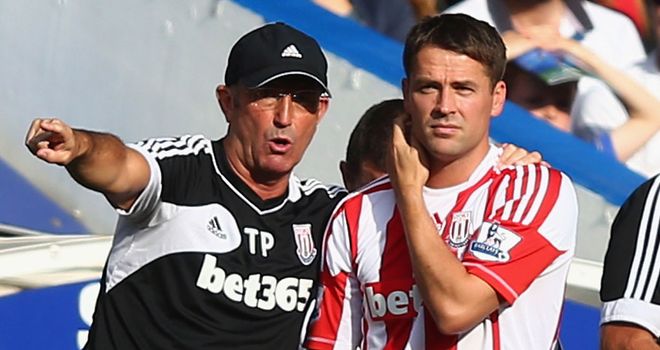 The Potters picked up their first win of the season against Swansea last weekend after enduring a slow start to the new season.
Brendan Rodgers' Liverpool have also suffered a slow start to the campaign but were impressive in sweeping aside Norwich 5-2 last weekend before a much-changed line-up lost to Udinese in the UEFA Europa League on Thursday.
Puls admits his side will start as underdogs on Merseyside but insists that will not faze his players.
He is also confident his team can pick up a result if key incidents fall in their favour.
"You can never call a game," he said. "The players have trained really well during the week and then you play poorly on the Saturday.
"Then you'll have another occasion where the lads won't train so well during the week and they'll get a result.
"It's a funny old game so it will be the team who turns up and plays well and hopefully we will get a few breaks. Udinese got a few and ended up winning the game so we need a few breaks."
Reception
Stoke head to Anfield with plenty of familiar faces for Reds fans, with ex-Liverpool stars Michael Owen, Peter Crouch and Charlie Adam all in the squad.
Pulis expects the trio to receive a warm reception from the Anfield crowd in and has also tipped new Reds boss Rodgers to be a success.
"They will enjoy it, I'm sure they will enjoy it," Pulis said of Crouch, Owen and Adam.
"Being there [to watch Liverpool play Udinese] and speaking to people on the door, they're all looking forward to seeing the boys back which is lovely.
"But they're good boys, Crouchy, Michael Owen and I think Charlie was well-liked there too, so they're good lads going back and the supporters understand that.
"It's a great football club with a fantastic tradition and Brendan is a very lucky guy to have a crack at that and take that club forward.
"I think he understands that and recognises it. He needs backing which I'm sure they'll give him otherwise they wouldn't have appointed him."