Stoke boss Tony Pulis says the best is yet to come from captain Ryan Shawcross
Stoke boss Tony Pulis insists captain Ryan Shawcross will continue to improve and has yet to reach his peak.
Last Updated: 21/10/12 11:54am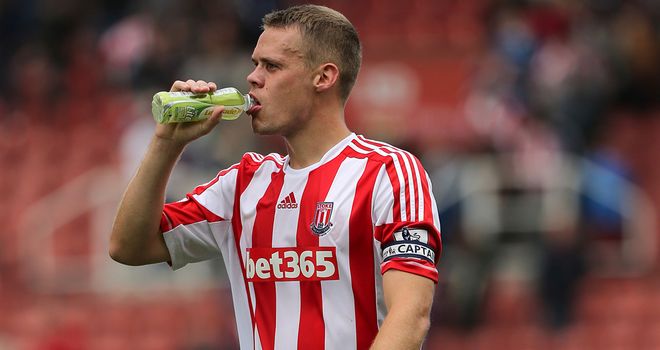 Shawcross was called up to the England squad for their World Cup qualifiers against San Marino and Poland recently and made another positive impression despite Stoke's 4-2 defeat by Manchester United on Saturday.
The centre-back joined Stoke in 2007 after he left Manchester United and Pulis believes he snared a bargain when he signed the defender.
"There is always an opportunity to take a player from one of the big clubs," he said.
"The big clubs spend a hell of a lot of money on their youth development programmes but there is always a player there who might get stuck in the traffic of people coming through.
"Ryan is one of them. He was a great signing and the good thing is he wants to get better. He has that desire about him."
Shawcross has been linked with a move to Tottenham as well as a return to Manchester United, but Pulis is adamant he is going nowhere.
"No chance," said the Stoke boss of a potential January transfer window move.
"It has been a good marriage. Ryan is our captain and has been selected for England and he is only just 25.
"We won't see the best of him for another two or three years."