Tony Pulis speaks of his pride at his 10-year Stoke anniversary
Tony Pulis has spoken of his pride after a decade in charge of Stoke but remains guarded on any form of complacency.
Last Updated: 01/11/12 4:57pm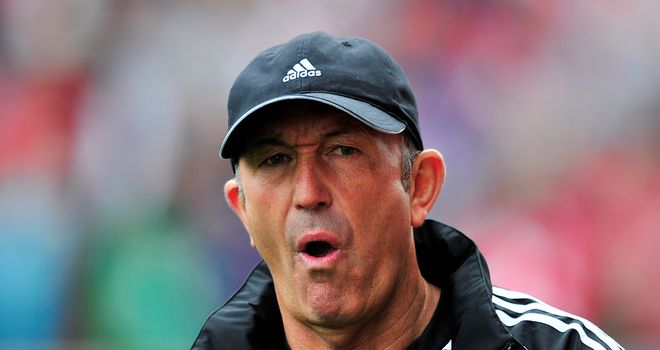 Stoke were just above the second tier relegation zone when Pulis was named boss on November 1 2002 and are now in their fifth successive Premier League season.
He had a brief spell at Plymouth after he was dismissed by the Potters' Icelandic owners at the end of 2004-05, only to return a year later following Peter Coates' takeover.
And 10 years after his first arrival at the club, Pulis is determined to keep pushing the club on.
Pulis said: "It has been tough, but obviously I'm very proud of what we have done and achieved.
"I can remember sitting in the Waddington Suite (at the Britannia Stadium) on my first night with the Icelandic directors saying I was very proud to manage Stoke City, and I still am very proud to manage this football club.
"It has been a fantastic time here. It has had ups and downs and it is difficult - football clubs are not easy to manage.
"But I've enjoyed it, and I hope people will look back and feel I've played my part in what we've done over the last 10 years.
"It has been very, very good, but the biggest thing in life and in sport is that you can't rest on your laurels."
He added: "You have got to keep driving forward and pushing forward. I know you are always three or four games away from taking a lot of stick, so you have to be on the front foot as much as you can.
"If you sit and take slaps on the back and people saying well done, then you take your foot off the pedal.
"The Premier League is such a tough, tough league and it can all fall away so quickly."