Glenn Whelan hopes Republic of Ireland boss Giovanni Trapattoni will not abandon his midfield experiment
Glenn Whelan has urged Republic of Ireland boss Giovanni Trapattoni to keep faith with his midfield plans.
Last Updated: 13/11/12 3:12pm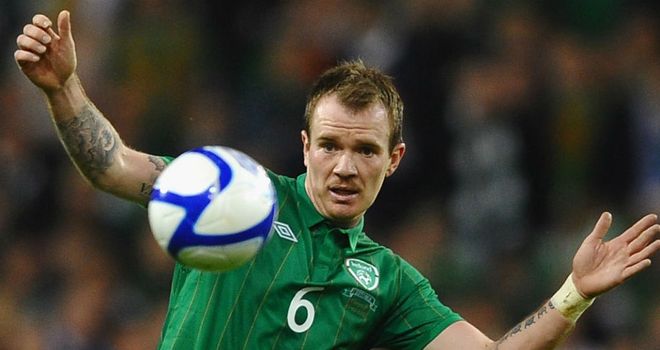 The Italian employed a central midfield trio in last month's World Cup qualifier against Germany, but his team appeared to struggle with the new system and slumped to a humbling 6-1 defeat at the Aviva Stadium.
But Whelan does not want to revert back to a 4-4-2 system after being given a torrid time by Croatia, Spain and Italy in last summer's Euro 2012 finals.
He said: "If it's me or Keith Andrews or Darron Gibson or Keith Fahey who has been in there, we have been over-powered. We are playing three against two and we don't get the credit that we deserve, really.
"We have taken a lot of stick, but what can we do? We are told by the manager to go out and play like this. It's not for me then to go, 'Hang on a minute, I'm not'.
"He's the manager, he's the boss and you do what he says because if you don't, you are not going to get picked."
The Stoke midfielder insists the team must learn from the mistakes at Euro 2012 and cannot just be satisfied with qualification.
"When the manager was first brought in, the board's thinking was first and foremost to get us to a World Cup or to a Europeans, that's what everyone wanted," he said.
"It was okay getting us there, it's then what you do afterwards, it's what you are going to do once you are there. That's something we are going to work on and try to improve.
"He has fiddled about a little bit with systems and things like that, and that's helped because since I have been involved and been playing, I don't think I have played against another national team which has played 4-4-2."
Whelan revealed that his family tried to shield him from some of the criticism that came his way in the summer.
"They wouldn't talk to me, they would try to hide it away from me," said Whelan. "But I have got skin like a rhino at this stage.
"But you have to take the good with the bad. After the Euros me personally, I
felt a little bit embarrassed when I came back.
"I was hard to be around, not only because of the pressure of being to a
tournament for the first time in 10 years.
"I think it's the letting down the family and letting down friends and people
who have supported you. That's what it felt like to me and it was hard to
take."