Asmir Begovic is happy at Stoke and in no rush to move on
Asmir Begovic has shrugged off speculation surrounding his future, claiming he is happy to stick around at Stoke City.
Last Updated: 11/01/13 10:18am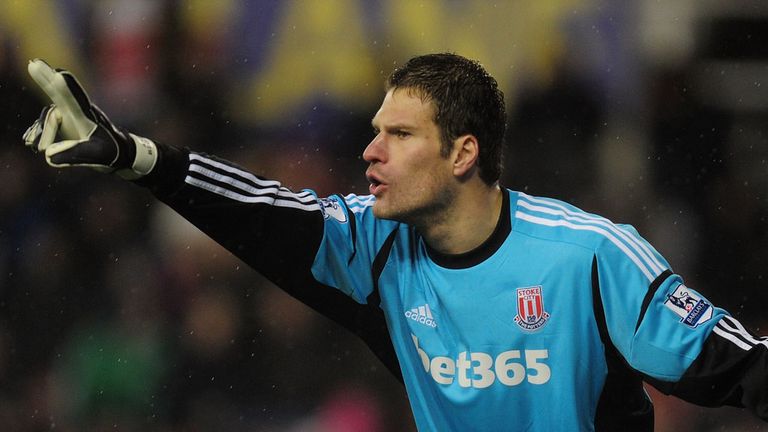 The Bosnia international has become the most sought-after goalkeeper in England, with the Premier League's leading lights believed to be keen on acquiring his services.
Begovic is flattered to hear of such interest - with Manchester United, Arsenal and Liverpool all said to be closely monitoring his situation - but insists he is paying little attention to the transfer rumours.
He says he feels settled at Stoke, allowing him to produce his best form, and will continue to give his all to the Potters cause until told otherwise.
Begovic told the Daily Telegraph: "It's positive and flattering to have interest and big clubs watching me and obviously I must be doing something right. It doesn't count for anything if I don't keep it going.
"I've got a long-term contract here and if the situation arises that remains to be seen. We're on the same page and of course I am happy to stay."
Unsettling
Begovic has had his head turned by speculation in the past, with Chelsea having made a move for his services in 2010 shortly after he joined Stoke from Portsmouth, but the 25-year-old claims he is now better equipped to deal with such a situation.
He added: "It was an unsettling time when the bid came in from Chelsea because I'd only been here a few months so there was a lot of turmoil.
"But the club made it clear they didn't want me to go and it's worked out for the best. It was an experience and I've had to take it as a positive and see where I can learn from it.
"I made some mistakes, for sure, but I was still young at the time and not been in that sort of situation before. It's made me stronger and my bond with the club stronger."