Stoke City manager Tony Pulis has lauded Jon Walters as an inspiration
Stoke City manager Tony Pulis has lauded Jon Walters as an inspiration to aspiring footballers everywhere.
Last Updated: 19/01/13 2:34pm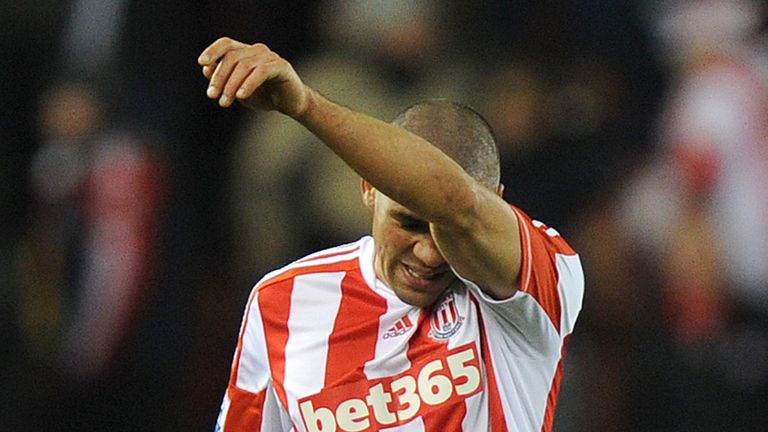 The 29-year-old Republic of Ireland international spent several years in the lower leagues before a move to Ipswich in 2007 put him in the spotlight.
Three years later he was recruited by Pulis in a £2.75m deal and his manager believes he has all the attributes to play for many more years.
"He has been a great signing for this football club," Pulis said.
"His attitude and application is absolutely first class and I think he is an inspiration to players at the lower level who are young enough but have not quite made it to the top, in respect of keeping going and trying.
"He got released as a young player, dropped down the divisions, ended up at Chester at one stage, and from that point onwards his career turned completely on its head.
"He has climbed and now he has played 73 consecutive games for us in the Premier League. He has been a dream. Everything about the kid is first class.
"The mixture between what we want as a football club and what Jon gives us is absolutely perfect."
Walters will feature once again when 10th-placed Stoke take on ninth-placed Swansea at the Liberty Stadium on Saturday - weather permitting.
Swansea's impressive progress - they were promoted from the third tier in 2008, from the Championship in 2011 and finished 11th in the top flight last season - has shown no sign of letting up this term following the appointment of manager Michael Laudrup as successor to Brendan Rodgers over the summer.
Welshman Pulis is delighted to see the Swans continue to thrive under Laudrup, and feels it is important to acknowledge the work of those who held the Dane's post before him.
"Swansea have been absolutely fabulous this year," Pulis said.
"I think when Brendan left there was a lot of people thinking 'This is all going to fall in', but with consecutive managers - and we have to go back to Kenny Jackett because I think he sometimes gets forgotten - they have kept the thing going and actually improved on it.
"You had Kenny, Roberto (Martinez, with Paulo Sousa then taking over for one season), Brendan and now Michael, who has been absolutely fantastic in what he has done."
To find out more about football on Sky Sports click here