Stoke boss Tony Pulis is confident ahead of FA Cup tie with Manchester City
Stoke boss Tony Pulis is adamant his team has little to be intimidated by when they host Manchester City in the FA Cup.
Last Updated: 26/01/13 12:24pm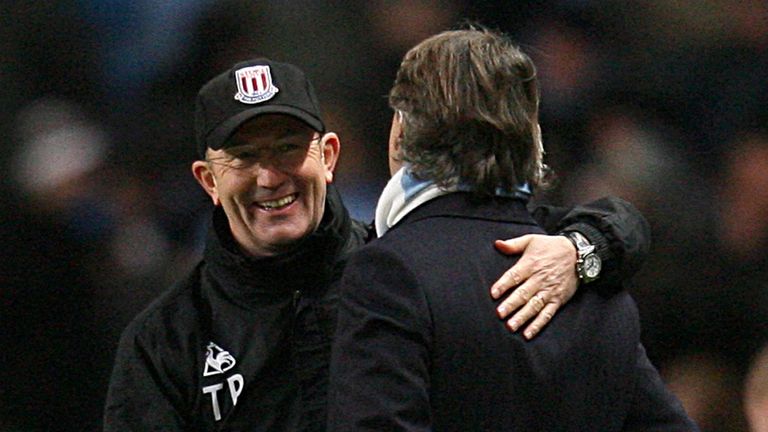 City make the trip to the Britannia Stadium on Saturday looking for their first victory at the ground since 1999.
And Stoke are looking to progress at least to the last eight of the competition for the fourth year in succession.
"Our record is as good if not better than anyone else's in recent seasons," Pulis said. "You look at our record in the past three years and it is phenomenal to have only lost three games.
"Two of those were quarter-finals away to Chelsea and Liverpool and the other the final at Wembley against Man City."
Pulis insists there is no element of revenge for their final defeat by City in 2011 - a game he has never watched since.
"We just want to go out and do our best," he added. "We understand how difficult it will be because they are a great footballing team with wonderful world-class players.
"We need to turn up and be 110% and we need our supporters to be 110% and I have no doubt they will turn up."
Pulis believes Stoke have ironed out some problems in training this week but knows they cannot afford any slip-ups if they hope to extend their cup run.
And he will pick a strong side despite the fact they have a match at home to Wigan on Tuesday.
"The first goal is always key against the big teams," he added. "What we need to do is make sure we don't give silly goals away which we have been doing over the past few weeks.
"Hopefully we have got to grips with what the difference has been.
"We defend as a team and I think that is most probably where we have fallen down a bit, we have stopped doing our jobs.
"When we defend as a team we are very difficult to break down. If you defend as individuals it is much easier for the bigger clubs to score."
On his team selection he added: "Of course the game against Wigan comes into our thinking, we have to stay in the Premier League so you have to balance it off.
"But the one thing we have done at this club is treat cup games, especially the FA Cup, as seriously as we can."