Tony Pulis says Stoke have not got results they deserved on road
Stoke boss Tony Pulis says they have played better away from home than their results suggest this season.
Last Updated: 10/03/13 2:05pm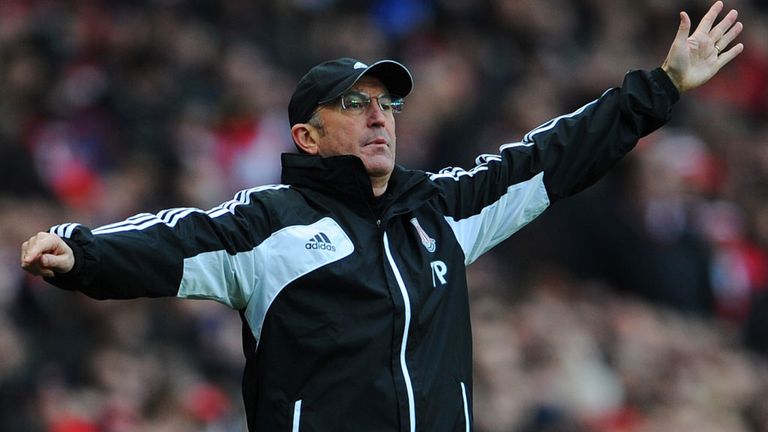 Pulis' side take on Newcastle at St James' Park on Sunday and will be looking for just their second win on the road this season, while their tally of eight away goals is the lowest in the top flight.
Pulis said: "I've been disappointed with the results. I don't think the performances have been as bad as the results have shown, and that's disappointing.
"We've played really well away from home at times and not got the results I think we've deserved, and that's right from the beginning of the season when we played at Reading (a 1-1 draw).
"We've had poor performances - Fulham first half was poor, Swansea was poor, and Man City was poor.
"But we did well at Tottenham (a 0-0 draw), we did well at Liverpool (also 0-0), it's the best we've ever played at Old Trafford (a 4-2 loss), and we did really well at Arsenal - it was just a deflected goal late on that meant we lost the game (1-0).
"That's the way it goes and you have to take it on the chin and get on with it."
Stoke are in poor form in general at the moment, having won just one of their last nine in the league.
"We'll try to get a formula to win a game," said Pulis. "The lads are desperate to win a game of football, I'm desperate to win a game of football, and that's what we'll try to do.
"We don't do anything different for away games than what we do for home games. We change it around to suit the players that are available. This week we're without (Robert) Huth and we could be without Matty (Etherington) as well.
"It's a great occasion going to St James' Park. It's a great ground to visit with a full house and it's one of the games in the Premier League you look forward to, because you know it's a special place."