Republic of Ireland striker Jon Walters hobbles out of training
Ireland boss Giovanni Trapattoni was given a scare when striker Jon Walters hobbled out of training on Tuesday.
Last Updated: 20/03/13 6:54pm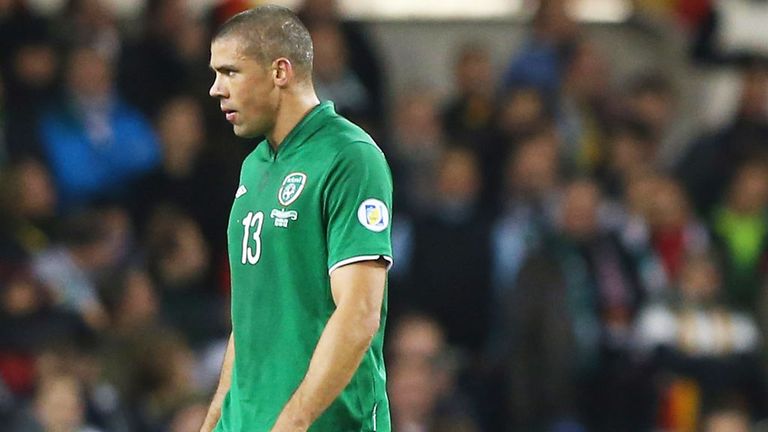 Walters was absent from Monday's training session in Malahide because of a back problem, and the Stoke forward was hurt in a collision with Shane Long on his return.
Goalkeeping coach Alan Kelly later revealed the medical staff are confident there is no lasting damage.
Kelly said: "It's a bit of a bang. He sort of stepped across the ball and Shane Long came in and hit the nerves on the outside of the leg, so it's really just an impact injury.
"I think he'll be okay. It's not a twist or anything like that, just an impact injury.
"After the initial burning went, he got up and got on with it. He's a tough lad, Jon."
Walters had lengthy treatment on the pitch, but was able to walk back to the team coach and the squad headed to their Portmarnock base at the end of this morning's session.
He will be assessed further but again, Kelly is hoping his injury is minor.
He said: "Obviously after something like that, he would be assessed, but he was okay. Just talking to him there, he seemed to be getting over the initial shock of it, really.
"He'll get a bit of ice and as I say, he's a big, tough lad, Jon, and I think he will be okay."
Goalkeeper David Forde and midfielder Glenn Whelan were also able to train as Trapattoni pressed ahead with his preparations for Friday night's World Cup qualifier in Sweden.
Meanwhile, the Swedes have confirmed the roof on the Friends Arena in Stockholm may be closed for the Group C clash because of the weather.