England U21 goalkeeper Jack Butland happy to bide his time
Jack Butland is happy for his career to progress at a steady rate as he looks ahead to the U21 European Championships.
Last Updated: 17/05/13 6:07pm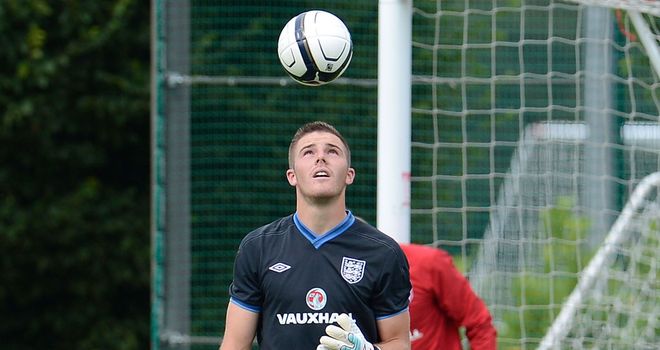 Butland rejected the overtures of Chelsea and Manchester City to secure a £4m move to Stoke in January, although he has been loaned back to Birmingham for the rest of the season.
The 20-year-old was named in the full England squad for Euro 2012 and made his debut in the 2-1 friendly win over Italy in August of last year.
Butland is determined not to get too carried away though and admitted he is delighted with how things are progressing.
"It has been a big development curve in my career this year," he said.
"I am very pleased with everything that has happened - it is something to look back on and be really proud of, with everything that happened last summer and this season.
"I'm really pleased with the opportunities I was given and I'm looking forward to what is next.
"I'm still young, especially as a goalkeeper, and my development has got to be steady - I can't push myself too much too fast.
"I'd like to think I have taken the opportunities I have been given, but I have to be very careful that I don't put too much pressure on myself and that I keep steadily improving as I'm stepping up to the next level.
"It is very important that I don't miss out on any levels and rush things, because that would be bad for my career."
Butland recognises that a successful tournament with the U21s this summer could boost his chances of breaking into the senor side on a more regular basis.
But he is content to see steady progression rather than taking a boom and bust approach, starting with back-to-back U21 friendlies with Romania and Austria.
"My goal is to push for a senior England spot, but that is not going to come without proving it at U21 level, Championship level and hopefully in the Premier League," he added.
"I know these are landmarks I have to reach before I can truly challenge guys in the senior squad, and the summer is something that I'm really looking forward to.
"It will be a fantastic experience for everyone that goes and hopefully it is a very successful one."