Tony Pulis wants Stoke fans to play part against Manchester United
Tony Pulis has called on Stoke's fans to get behind their team as they look to bring an end to a lengthy slump in form.
Last Updated: 12/04/13 1:29pm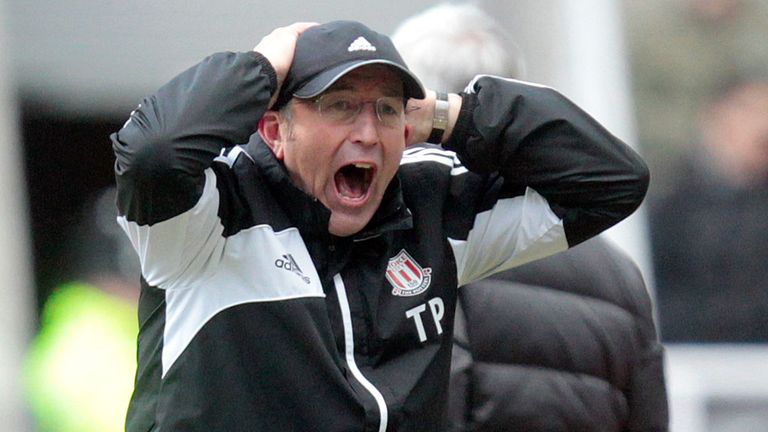 The Potters host Premier League title favourites Manchester United on Sunday and Pulis hopes fans will recreate the intimidating atmosphere the Britannia Stadium has become renowned for.
That atmosphere has been very different in recent weeks, with boos ringing out from home sections last weekend when Stoke fell to a disappointing 3-1 defeat against fellow strugglers Aston Villa and they have only won once in their last 13 games.
Pulis said: "The supporters have a right to say what they want to say and do what they want to do, that has always been my philosophy. But I don't think there is any reason for people to be moaning and groaning.
"People can talk about the previous seven years at this club and say it has been one of the most successful periods it has had but that counts for nothing.
"It is about today and tomorrow - that is what supporters are bothered about.
"They're not worried about what you might have done in the past. It is all about today.
"But the crowd have been good. There haven't been many occasions at the Britannia over the last six or seven years when they haven't got behind the lads.
"I think they realise we have got three massive games at home and I am expecting the crowd to be absolutely fantastic in those three games.
"It is tough times and you have to accept when you don't win football matches you are going to be under pressure and the spotlight is going to be on you.
"But I try to keep my feet on the ground. You keep working at it and embrace the challenges ahead. It is important we stay in the Premier League and important everyone recognises and realises they have to get behind the club and get behind the team now. This is when we need them the most."
Stoke are just three points above the bottom three heading into the latest round of fixtures and, given their form, a game against runaway leaders United, who are smarting from a derby loss to Manchester City, is a daunting prospect.
Pulis hopes his players can shake off their lethargy and rise to the occasion, saying: "It is a game that we look forward to. It is one of the reasons why everybody gets excited at being in the Premier League.
"To pit your wits against Sir Alex Ferguson and Manchester United is just fantastic for this football club.
"We have given them good games at our place over the past years and it was a tough game last year, when we got a good draw.
"They have just lost against Manchester City and I am sure he'd have been after them this week, so we know it is going to be tough."
Pulis has set only one target for his players - 40 points - and to achieve it they need two more wins.
He said: "I don't think you can pick a game and say that is going to be a stick-on three points, or a stick-on lose.
"We have got six games to go, 18 points to play for."