Tony Pulis insists he has no plans to leave Stoke despite recent speculation
Stoke boss Tony Pulis insists he has no plans to leave the club, despite speculation about his future.
Last Updated: 25/04/13 4:45pm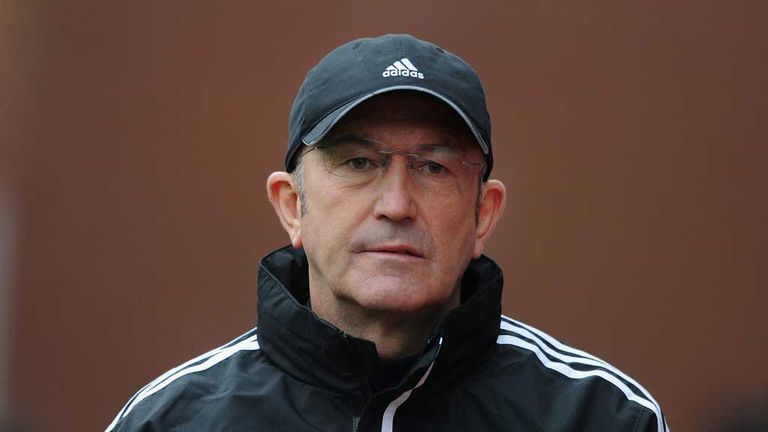 Pulis has received some criticism from a section of the Potters fans in recent months, but he is adamant his record over seven-and-a-half years at the club stands up to scrutiny.
Victory against Norwich on Saturday will assure Stoke's Premier League status for another year and Pulis believes club owner Peter Coates is content to leave him at the helm, after the pair had a chat on Tuesday.
"We sat there for three or four hours chatting away about everything, and he never mentioned anything about whether I was leaving or not," said Pulis.
"If I was going to walk away then I would have told him by now, and I certainly didn't mention anything about walking away.
"This football club has been absolutely fantastic to me. The Coates family are wonderful, wonderful people to work for.
"My respect for them goes a lot further than just closing a door and walking away. People who know me know I'm not somebody who just walks off into the sunset.
"For seven-and-a-half years at this football club, I don't think I've done too badly, and I don't think the club has done too badly either."
Pulis continued: "Do you get judged over a bad period of three months? Or do you get judged over a period of time?
"Everything is instant. Everybody wants results, results and results, and if you don't get them I understand.
"I'm big enough and experienced to know if you don't get results in this job then there is pressure on you, and you have to deal with that pressure."
But even if Pulis keeps Stoke in the Premier League for a sixth consecutive season, he cannot currently state whether he will be around for the next campaign.
It is more than likely he will face further talks with Coates at the end of the season.
"Let's get to 40 points and then we can start talking about everything else," added Pulis.
"I hope and want to be here, but it's everybody else, and the two most important factors in this are the family and myself.
"I've not said anything and the family haven't said anything."
Asked whether he could do more, or whether he had taken the club as far as they could go, Pulis said: "There is still work to be done and other areas that can be improved.
"I hope I'm the man to do it, but it comes down to the Coates family and myself getting together and talking about it. But if you're asking me if I'm happy, I've always been happy at this club."