Tony Pulis promises Michael Owen a send-off at St Mary's in his final game
Stoke boss Tony Pulis has promised Michael Owen a send-off on Sunday in what will be his final game before retirement.
Last Updated: 19/05/13 3:43pm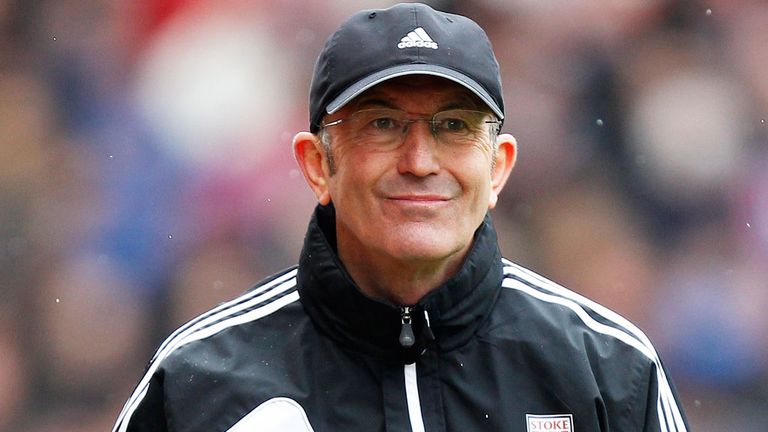 Owen, who announced his retirement in March, has been plagued with injuries since joining Stoke last September, playing just 130 minutes over eight appearances.
The 33-year-old has scored just once for the Potters, previously scoring 158 goals in 297 matches for Liverpool, and 40 in 89 games for England.
And Pulis, who confirmed Owen would be part of Stoke's trip to Southampton, said the striker will be given a good send-off.
"He has been fantastic around the place. He has been a really, really good lad," said Pulis.
"He's not had the playing time he's wanted, and I know he has been disappointed with that.
"But he's been good around the place, very supportive of the players who have enjoyed his company.
"He has certainly got a lot closer to them as the season has gone on, and that has been nice to see, him blossom within the group.
"I know people have been talking about Beckham and his career, well, Michael's career has been absolutely outstanding.
"A lot of people will say Michael had a career as good as Beckham's in lots of respects.
"So there will be a send-off for him at Southampton on Sunday for what has been an absolutely wonderful career.
"As to whether he'll play, I'll be telling him first before anybody else."
And while Pulis remains in the dark over his future, he makes it clear he hopes to remain in charge at the Britannia Stadium next season.
"I hope so," he said.
Pressed on why he could only say 'hope', Pulis added: "If I said hope, then I want to be here.
"Seven years ago I said I was very proud to be Stoke City manager.
"I'm stood here today and I'm still very proud to be Stoke City manager."