Tony Pulis accepts decision of Stoke City chairman to take club in different direction
The League Managers Association have confirmed that Tony Pulis left Stoke City on amicable terms.
Last Updated: 22/05/13 9:27pm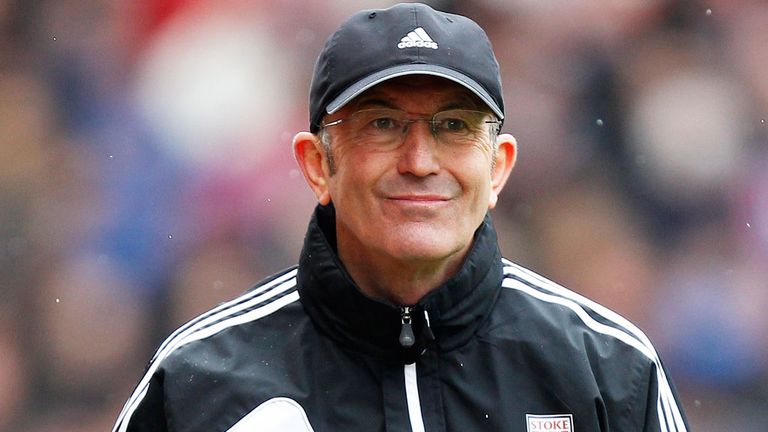 Pulis departed the club on Tuesday night after accepting Potters chairman Peter Coates' decision to take the club in a different direction.
The 55-year-old led Stoke to the Premier League during his second spell in charge and later to an FA Cup final and the Europa League, but he had come in for increasing criticism for his 'long-ball' style of play.
In a statement through the LMA, Pulis said: "I have enjoyed some wonderful times at Stoke City and nobody was prouder than me when, after 23 years of exile from top-flight football, we gained Barclays Premier League status.
"Over the past five years we have created history by being the only team in this club's 150 years existence to remain out of the bottom six in top-flight football for five consecutive seasons.
"Within our five-year period in the Barclays Premier League we have featured in four major cup quarter-finals, an FA Cup semi-final and final.
"Further, we have encountered, progressed and reached the later stages of a major European cup competition, only to lose out to Spanish giants Valencia.
"Peter, his family and I have enjoyed every inch of the journey; he has been truly a fantastic man to work with.
"Although I am disappointed I do understand what he means when he says the board feels a need to take the club in a different direction."
Coates expressed his thanks for the work Pulis had done.
"The last seven years have been some of the best in our long history and I would like to thank Tony for his huge contribution in this," he said in a statement.
"I personally regard him as a great friend and will hugely miss working with him.
"We will now begin the difficult task of searching for a successor to Tony.
"This will be done in private and the club will make no further statement in respect of this search until an appointment is made."