Tony Pulis planned for future before Stoke sacking
Tony Pulis spent six months drawing up a plan to "transform" Stoke City before being sacked earlier this week.
Last Updated: 25/05/13 3:53pm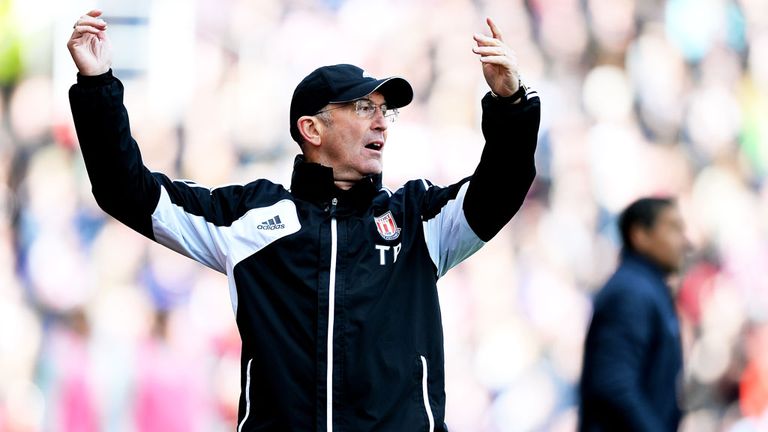 Pulis parted company with Stoke on Tuesday following a meeting with chairman Peter Coates in which he had expected to discuss the club's transfer targets and plans for the future.
Those plans will not now include Pulis after his seven-year reign at the Britannia Stadium was brought to an end, but Coates will be armed with a detailed dossier drawn up by the Potters' former manager.
Pulis, who has faced criticism for failing to field young players, revealed he had visited Athletic Bilbao and Bayer Leverkusen for inspiration on how to make the most of Stoke's Academy, which was last year granted Category A status by the FA.
Speaking prior to his departure but in quotes first printed on Saturday, Pulis told The Sun: "I've done a report for Peter which took me six months to complete and three months to write.
"I've given it to Peter and everyone else who matters.
"Ideally, I'd like to transform this club with the right people in the right places, doing it the right way.
"I went out and saw Bilbao and was very, very impressed with their set-up.
"Obviously it's the Basque area, very similar to South Wales in respect of the population.
"Yet Bilbao remain the only club outside Real Madrid and Barcelona never to have been relegated from La Liga.
"I wanted to know how they managed to consistently produce quality players and teams.
"They are like us (Stoke) in many respects, a community club who are up against global giants, yet they consistently manage to punch above their weight.
"I was interested in the way Marcelo Bielsa trained and worked their lads.
"It was a similar story in Germany. I went over to Leverkusen who were overachieving in the German league.
"I could easily have picked Dortmund or Bayern Munich, but I thought I'd pick a club who were very similar to us over the last few years, who have really over-achieved.
"Their youth set-up work was fantastic - the way they trained, the way they worked, the way it was all linked together.
"It was as one all the way through the programme which joined up all the dots."
Pulis has long been a vocal critic of the Academy system and feels more experienced coaches are need to coach club's young players.
He said: "At Bilbao the guys who work with the youth team are all experienced at first-team level.
"At Leverkusen the director of their Academy, Sascha Lewandowski, used to manage the first team. He's actually managed the first team and helped them qualify for the Champions League.
"But he wanted to step down to build the club from the roots up and now he is the director of the Academy.
"It is the way to go, without a shadow of a doubt.
"It has given these clubs not just continuity, but great experience as well.
"Their young players know what it takes to become a first-team player.
"The discipline, structure in their life, the competitiveness needed to make it to the first team.
"I've done my report, Peter Coates will look at it and I'm sure John Coates will look at it too."