Charlie Adam relishing Scotland's friendly date with England
Charlie Adam says there is no chance of Scotland suffering an inferiority complex when they face England at Wembley.
Last Updated: 13/08/13 10:38am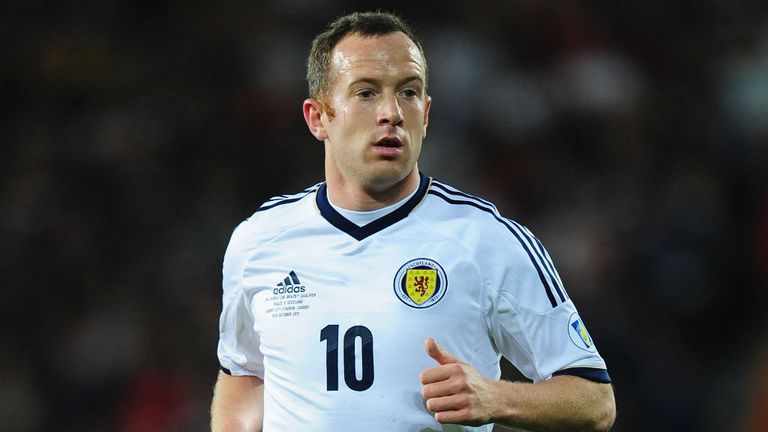 Gordon Strachan's side will travel to the home of English football on Wednesday for an encounter which has been organised as part of the ongoing 150-year celebrations for the Football Association.
It will be the first time since 1999 - in a Euro 2000 play-off - that the two nations have gone head-to-head in an international contest.
Stoke midfielder Adam admits he cannot wait to sample what promises to be an electric atmosphere and has warned England that Scotland are taking the game extremely seriously and have their sights set on another notable scalp.
He told the Daily Record: "Players of previous generations were able to regard the meeting with England as an annual event. But it's 14 years since our two countries last met and for me that makes this game a special occasion I can always look back on.
"I've spoken to the players from other countries who have played England at Wembley and they tell me the atmosphere on those occasions is incredible. But this time there will be 20,000 Scottish fans in the ground and they're going to present England with a challenging atmosphere.
"They will respect us as players because so many of us play down here and the hype surrounding the game will mean the pressure will lie with the English lads.
"We certainly won't feel inferior to them because a lot of us have played against Frank Lampard, Wayne Rooney and Steven Gerrard. That makes Wednesday night 11 v 11 without any distractions being drawn between who comes from which country."
Privilege
On the importance of the contest to Scotland heading forward, Adam added: "We should relish the occasion. It is us versus them and every man on our side should want to play against England's world-class players.
"We're not a lesser nation and we shouldn't ever think of ourselves in that way. The win over Croatia in our last World Cup qualifier was an example of where team effort can take you.
"And it's not as if we're going to get an extra 10 per cent out of every player at Wembley just because we're facing England. I regard every game I play for my country to be an honour and a privilege. I'd feel the same way I do now if we were playing Lithuania instead of England this week.
"We'll want to win this one because it's the next game Scotland play and it'll also give us ideal preparation for facing Belgium and Macedonia in our World Cup qualifiers.
"There will be people in England who might think Scottish football is rubbish but this is our chance to go down there and show them our country still produces top-class players."