Premier League: Mark Hughes says Stoke can upset Arsenal at the Emirates
Mark Hughes admits Stoke's fine form makes him believe they can beat Arsenal on Sunday.
Last Updated: 22/09/13 1:25pm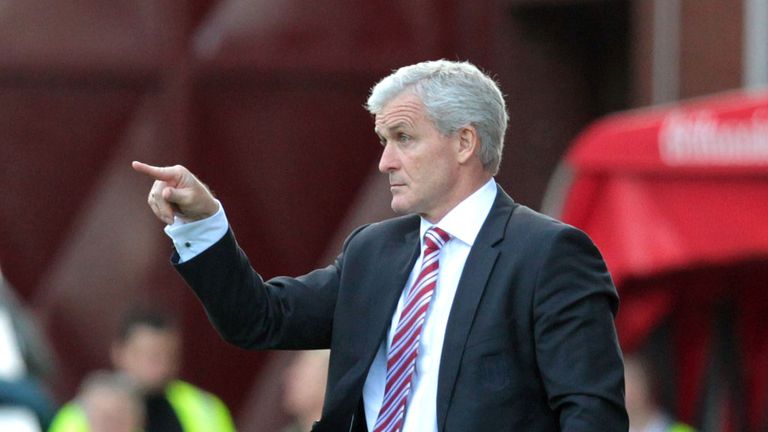 Arsenal and Stoke both lost their first game of the season but have been unbeaten since.
Manager Hughes is delighted with the Potters' start and admits he has been pleasantly surprised by their form, which included a 0-0 draw with Manchester City last week.
"You can't question the quality and ability of Arsenal - they are playing well and winning games," he said.
"But we are playing exceptionally well too, and in my opinion it is as good a time as any to go down there and play them.
"In terms of how we are playing it is probably better than I thought they were possibly capable of.
"The exciting thing for me is that I feel there is more to come. Everything they have been asked they have come up with answers so far, and long may that continue.
"We are playing some good stuff and creating a lot of chances. We played really well last week and we deserved to win.
"Manchester City weren't at their best, but that was perhaps a consequence of coming up against ourselves, who put in a fantastic display."
Arsenal's club-record signing Mesut Ozil will be making his home debut for the hosts and Hughes said: "Lots of clubs invest huge amounts of money, and people will be thinking that by bringing Ozil in Arsenal will be challenging this year.
"They have made a good start, whereas other teams maybe haven't started so well. It will be a long season though, but if Arsenal can sustain their form they will be up there for sure.
"Of course they will ask questions of us, so we will need to stand firm and limit them to infrequent opportunities.
"We have got to be clear in our own minds about what we want to do on Sunday. Individually players have to take responsibility for their own roles, and if they are able to do that and do the things that we know we are capable of then we can go there and win the game."