Jermaine Pennant thanks Mark Hughes for giving him a second chance at Stoke
Jermaine Pennant is delighted to have a second chance with Stoke under new manager Mark Hughes.
Last Updated: 29/09/13 3:07pm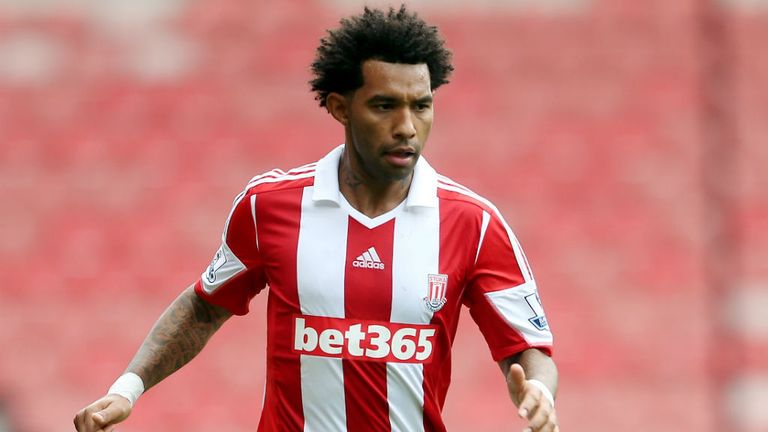 The sometimes wayward winger was set for the Britannia Stadium exit under former boss Tony Pulis, but was granted a reprieve by Hughes after his close-season arrival.
Pennant, now 30, has been through his off-field troubles including a fine over a domestic disturbance and several driving offences - not to mention the fines accumulated when he left his Porsche unattended at a Spanish railway station after returning to England for an initial loan spell at Stoke.
He notes, with a hint of understatement, that: "I've never been the perfect professional - the James Milner type."
But after working with a therapist used by the Potters, he was handed a new one-year contract and is grateful for his opportunity.
"I wanted to stay here but under the old regime it wasn't going to happen," he told the Sunday Telegraph.
"I would have left, without a shadow of a doubt, but the new manager came in and we talked and he just wanted to know, to hear from me, what had happened in the past.
"We went through it and he just said, 'That was not with me. You have talent, you are a good player,' which was what I wanted to hear.
"The club have been fantastic. They could easily have agreed with Tony Pulis and said, 'Yeah, we will call it a day'. In their eyes they are probably thinking they are taking a risk because they are a business as well, so they don't want to pay that money to someone who is not worth it."
Stoke have won new admirers in the early stages of this season, with Hughes attempting to introduce a more fluent passing style than that relied upon by Pulis.
And Pennant said: "It's put a smile back on our faces. It's what we all wanted, really, especially with the squad we have got. We all feel we should have been doing this sort of stuff before. Now we are allowed to express ourselves.
"Every manager has got ideas of his own, a style they want to play and (Pulis) just felt that was defensively good, a good shape. His idea was maybe firstly not to lose, to be solid. Now maybe it's, 'Go out and win.' So it's a different approach."