Mark Hughes feels Stephen Ireland isn't ready to play for the Republic of Ireland yet
Stoke City boss Mark Hughes believes it is too early for Stephen Ireland to return to the Republic of Ireland squad.
Last Updated: 03/10/13 7:16pm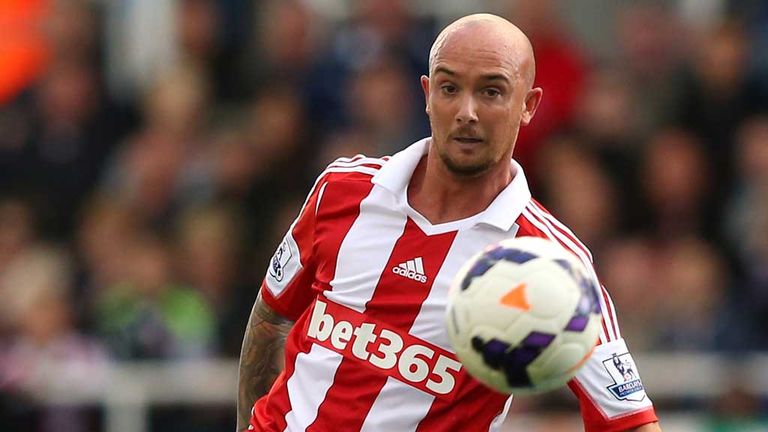 Ireland has not featured for his country since 2007, but recently confirmed he would be prepared to discuss a comeback after Giovanni Trapattoni's exit as coach.
The midfielder has not been included in Ireland's squad for the upcoming World Cup qualifiers against Germany and Kazakhstan after making just three substitute appearances in the Premier League since joining Stoke on loan last month.
Hughes feels the time is not right for Ireland to end his international exile and expects the 27-year-old to hold further talks about the situation once Trapattoni's successor has been appointed.
"Stephen is still trying to get back to the levels he knows he can reach and at the moment he is not quite there," said Hughes.
"He is very close, but I think getting involved with the international squad would be a little bit premature for him at the moment.
"But certainly he has said he is more than happy to have a conversation in regard to being involved again.
"Probably the actual position of the national team manager needs to be resolved and then he can have that conversation and move it forward."
Ireland has not played for his country since he lied about the death of both of his grandmothers after pulling out of the squad for a European Championship qualifier in the Czech Republic six years ago.
Hughes said: "He is doing very well, his fitness is improving.
"He needed good quality work within the senior group. Prior to coming here he was just working with the under-21 development squad.
"That takes the edge off your work, the intensity of work is not what you need to make an impact at Premier League level. The more work he does with us the better he will become."