Stephen Ireland grateful Stoke rescued him from Aston Villa nightmare
Stephen Ireland admits his loan move to Stoke City has proved a godsend after a nightmare year at Aston Villa.
Last Updated: 06/11/13 12:27pm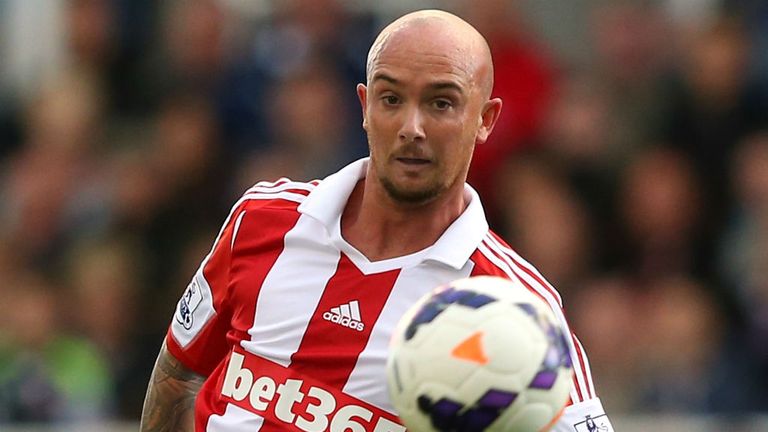 Ireland joined the Potters for the 2013-14 campaign after ending last term training on his own, and he hopes to earn a longer-term deal at the Britannia Stadium with his Villa contract expiring at the end of the season.
He has already established himself as one of Mark Hughes' preferred midfield options and is grateful for the chance to resurrect his Premier League career.
"The last nine months, maybe, I was training on my own," Ireland said on a visit to St Teresa's Catholic School, organised by the club's Community Trust.
"That's not very nice for a player to be going through that. It's tough, it's mentally draining, you feel not wanted. Pre-season I was on my own again and I came here and it's been great.
"I'm grateful to Stoke, to the manager, for bringing me here and I am going to make sure I make the most of my opportunity.
"We're trying to get the ball down and trying to play the right way. It suits me that we are trying to play football, that's why I am enjoying myself and have got a smile on my face again.
"This is a big campaign for me because I have to earn a contract, here or somewhere else. That's my target. It's in my hands and my performances will reward me with my next club and contract.
"In terms of fitness, I feel I've got up to scratch faster than I thought I would have. I thought it would take a couple of months, but it's only taken a few weeks.
"I've started four games and I want to make sure I start the next 10 or 15, but at the back of my mind is Ireland. I would like to get together with Martin O'Neill or Roy Keane and have a chat."
Ireland admitted that smile widened even further on Saturday against Southampton when keeper Asmir Begovic scored after a matter of seconds, although his aimless punt which beat Artur Boruc was not enough to secure victory in the 1-1 draw.
But Ireland revealed Begovic was embarrassed more than excited to have joined the small band of goalkeepers to score in a Premier League game.
He added: "He hasn't really said much about it because I think he's a bit embarrassed in a kind of humble way.
"I actually couldn't stop laughing. I couldn't believe I was actually on the field to witness a goal like that.
"You always see these things on Sky Sports or on Youtube but I never thought I would ever be on the field to witness something like that in a Premier League game after only a few seconds. I couldn't believe what I was seeing."