Premier League: Stoke manager Mark Hughes hails Liverpool quality
Mark Hughes says Liverpool's quality was evident after Stoke's defeat at Anfield in the first match of the season.
Last Updated: 12/01/14 3:28pm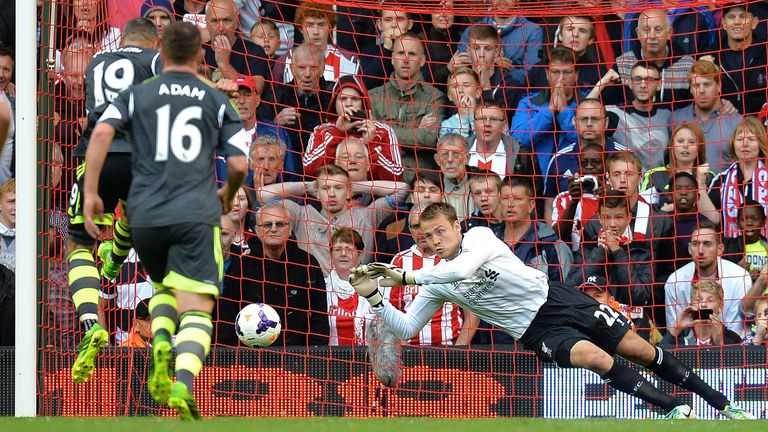 Liverpool goalkeeper Simon Mignolet saved a late Jonathan Walters penalty to deny Stoke what would have been a very creditable draw at Anfield in August.
But Hughes revealed that everyone at the club could see even at that early stage that Liverpool could potentially be a force to be reckoned with in the Premier League this year.
"My memory of the Liverpool game is that we acquitted ourselves really well and made a good impression, but it's fair to say at the time we recognised Liverpool were going to have a really good season," he said.
"We were very much in that game and had an opportunity to take something out of the game, but unfortunately Jon missed the penalty. We discussed it immediately after the game and everyone - players and staff - thought Liverpool looked in really good nick.
"They were always likely to have a good season by virtue of their movement and their technical ability.
"So the progress they have made really hasn't surprised anybody here because we saw the evidence in the first game of the season."
Steven Gerrard is likely to make a return to Liverpool's Premier League starting line-up after making an earlier-than-expected return from a hamstring injury against Oldham in the FA Cup last weekend.
Daniel Sturridge could also return after being sidelined by an ankle injury, and Hughes says his Stoke side are relishing the prospect of trying to stifle the attacking threat posed by the trio.
"If you add those two players to the quality Liverpool have in Suarez and they're outstanding," said Hughes.
"Suarez is playing on a different level to most strikers in the Premier League - I noted he has won player of the month and that doesn't surprise anybody given the quality of his performances.
"But when you add another two players of the calibre of Sturridge and Gerrard, it's a a heady mix; you know you're up against a quality side.
"But we've shown we have the capability of matching the top teams in the league, which Liverpool undoubtedly are this year.
"We've beaten Chelsea and had good draws versus Manchester City and Everton.
"We're not fazed going up against the top sides in the division, we're in good form ourselves and we look forward to it."