Premier League: Stoke City chairman Peter Coates accuses referees of big-club bias
Stoke City chairman Peter Coates has accused the Premier League's leading referees of big-club bias.
Last Updated: 14/01/14 12:17pm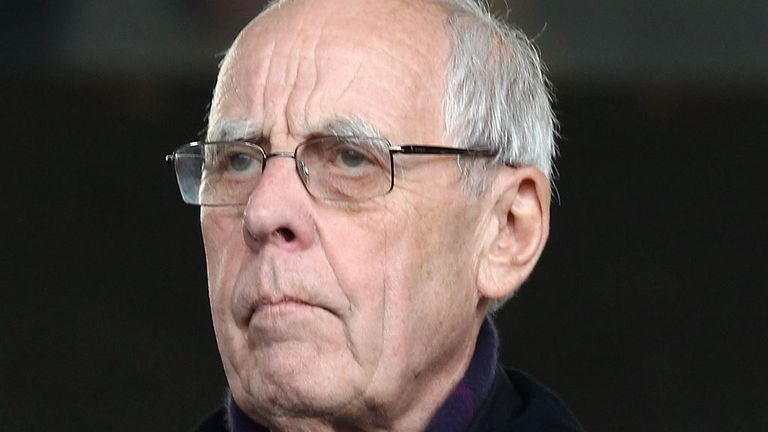 Coates was left angered by recent decisions during the Potters' defeats at Newcastle and Tottenham last month, the former resulting in an official complaint made against Martin Atkinson.
And the 76-year-old has again made his feelings plain following Anthony Taylor's performance during Sunday's 5-3 home defeat to Liverpool.
Liverpool were awarded a second-half penalty after Raheem Sterling went down under a challenge from Marc Wilson, which resulted in the visitors taking a 3-2 lead after Stoke had clawed their way back into the game from a 2-0 deficit.
"The game changes when the referee gives a penalty for the merest of touches. The player dived," said Coates, speaking to The Sentinel.
"There was also a handball by Sterling before the penalty, one the linesman didn't see, and that is a game changer.
"We are again victims of poor refereeing and I am sick of it. We had it against Newcastle and Tottenham, and now Liverpool.
"You get fed up with it because these are big decisions that affect the games you play in, so you are bound to get very upset by it.
"It is well known that the big clubs, especially at home, but often away too, get the big shouts.
"I am not questioning any referee's integrity, it's human nature. It's always been like that and it never changes."
Coates believes previous comments from Liverpool boss Brendan Rodgers about decisions that went against his own team in games with Chelsea and Manchester City may have played a part in Taylor's thinking.
"If you remember, Brendan Rodgers was rather annoyed not to get a penalty recently," added Coates.
"He made a big play of it and the media made a big play of it, so you do wonder if it crosses the referee's mind.
"I am not accusing referees of cheating, just acting subconsciously under various different pressures."