Premier League: Stoke's Peter Odemwingie happy again after leaving Cardiff
Stoke's Peter Odemwingie feels happy and confident once again after putting an ill-fated spell at Cardiff behind him.
Last Updated: 10/02/14 7:54am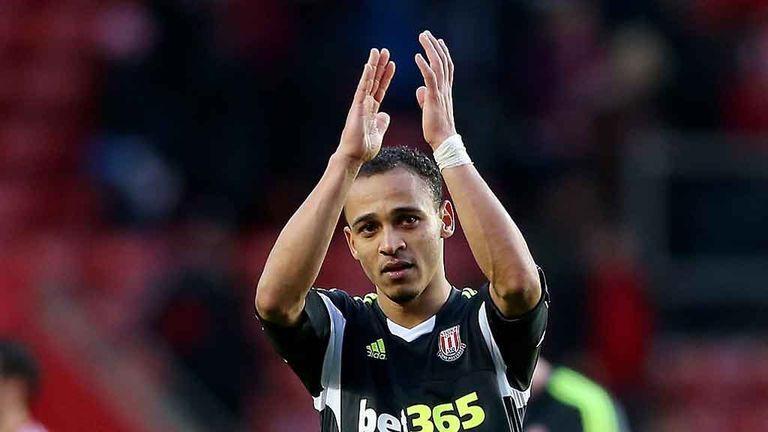 Odemwingie joined the Bluebirds in the summer after three years at West Brom but the move did not work out and he left the club in January as part of a swap deal with Kenwyne Jones.
The deal gave both the chance of a fresh start and it is one Odemwingie is enjoying, highlighted by his celebrations after his first Stoke goal in Saturday's 2-2 draw at Southampton.
"Very often, I was pulled out of games," said the 32-year-old of his time in south Wales.
"I had a poor pre-season and I needed the full 90 minutes to open up and get my fitness back.
"It was a similar situation all the time: the team not doing too well, I would be the first to be pulled off and those things no player can be happy with.
"It became too often and it affected my game and confidence but now I am happy. I can be playing and doing well for the team.
"Three games so far, three 90 minutes.
"I have been in the game a lot of years and I know where I can do well and I saw this team has the quality of players that will make me better.
"There were games in Cardiff when I had to be a target man, backing into players. It is not my game.
"I have never been so strong physically to do that. I would say I was not used in my best way I could have been."
Odemwingie is enjoying playing off Peter Crouch and is hopeful that Mark Hughes' side, having followed up the 2-1 win against Manchester United with a point at St Mary's, can kick on up the table.
"In the dressing room, we want the top half and hopefully we can achieve that," he said, with the Potters 13th ahead of Wednesday's match with Swansea.
"The home results are good but away, they were not so good.
"For that to happen, you have to win a few away and draw a few.
"Hopefully we can get that towards the end of the season and keep the home
form going."