Transfer news: Mark Hughes confirms Stoke interest in Ivica Olic
Stoke City manager Mark Hughes has confirmed the club's interest in signing Wolfsburg striker Ivica Olic.
Last Updated: 28/02/14 4:58pm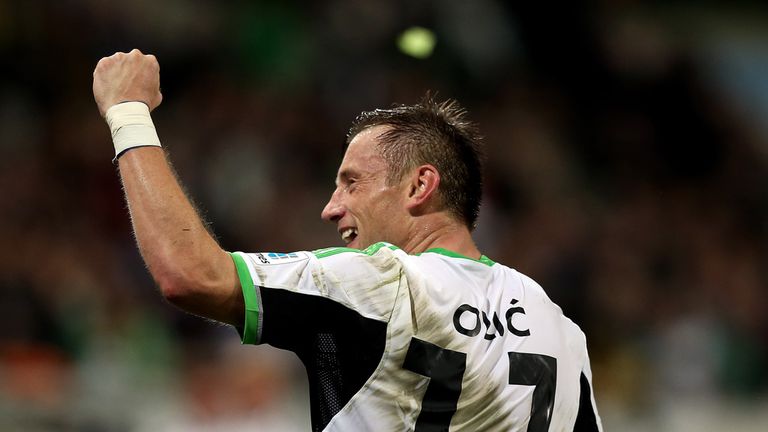 Croatia international Olic, whose current contract with Wolfsburg runs out in the summer, was quoted this week as saying he had held talks over a move to the Potters.
The 34-year-old revealed he had been made an offer by Stoke and that he was yet to choose between that and an offer of a new deal from Wolfsburg.
Speaking ahead of Saturday's home game against Arsenal, Hughes said: "It is fair to say he is an interesting player - one I have faced in the past and have always been impressed with.
"There is an interest there and we'll see how it progresses."
Hughes has also given his thoughts on the contract situations of defender Andy Wilkinson and goalkeeper Thomas Sorensen, who are both on deals that expire at the end of the season.
Wilkinson, 29, has already indicated he has been offered a new contract and that, despite his frustration at a lack of game time this term, he hopes to stay at the Britannia Stadium.
Hughes said: "We'd like Andy to stay - I think he typifies the Stoke attitude and he has good ability.
"He is a local guy, has been here a long time and is very much part of the fabric of the place, and you can't have too many of those type of players in your club.
"So we'll be delighted if Andy can agree a new deal and is here for a longer time."
Regarding 37-year-old Dane Sorensen, who has spent most of this season on the bench as back-up to Asmir Begovic, Hughes added: "Thomas is a very valued member of the squad here and his situation is one that will be reviewed at the correct time.
"At this moment, it is not one that we have looked at, but Thomas is an exceptional goalkeeper, he has a definite role here in my view and I would imagine if you allow a keeper of Thomas' ability to go, then you have to make sure the reasons to allow him to leave are valid ones."
Sorensen, quoted by The Sentinel earlier on Friday, said: "I will take it as it comes. We will see what the options are, but I haven't heard anything from Stoke. I just know I have got three or four months left. I feel great, so there's positives, but also you do look to be playing."