Premier League: Stoke will miss Stephen Ireland against Villa, says Mark Hughes
Stoke boss Mark Hughes is disappointed but not surprised Stephen Ireland will not be able face Aston Villa on Sunday.
Last Updated: 23/03/14 3:08pm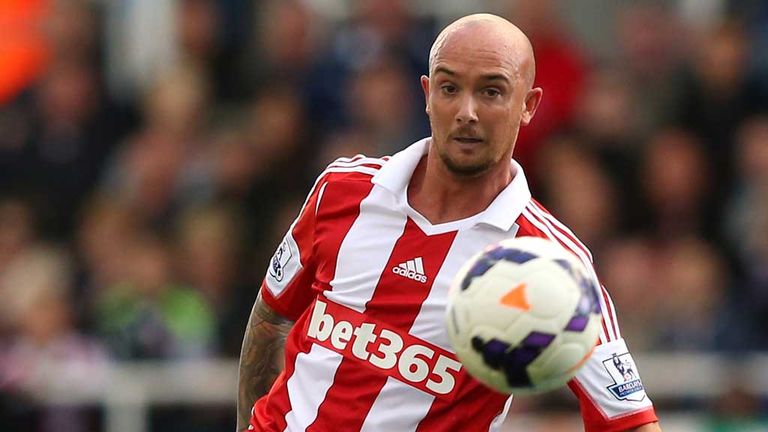 Ireland joined Stoke from Aston Villa on a season-long loan deal in September which was then made permanent in the winter transfer window.
After struggling to make an impact at Villa, he has put in some eye-catching performances for his new club, not least last Saturday when he had a hand in each of his side's goals as they beat West Ham 3-1.
But the a clause in the 27-year-old's contract specifies that he cannot face his old club at Villa Park on Sunday.
"Aston Villa stipulated that they weren't going to allow the loan deal to be changed unless it was in the contract that Stephen couldn't play against them," Hughes said.
"We had to respect that, or we wouldn't have got the deal done.
"It is a shame for us because Stephen was excellent last weekend against West Ham.
"But I think it shows Aston Villa understand what a good player we have got. So you can understand it from their point of view - they don't particularly want to help us."
Ireland will miss a midfield battle that is set to feature Villa's Fabian Delph, another player who shone last weekend and is enjoying a decent season.
Integral
Delph scored an outrageous winning goal in Villa's 1-0 victory over Chelsea on Saturday and there has been increased talk since of him meriting inclusion in England's World Cup squad.
Hughes feels the 24-year-old "epitomises" what Villa manager Paul Lambert wants from his players.
"He has worked his way into the team and now he is very much an integral part of what they are trying to do," Hughes said.
"He has good energy and has always been competitive - I think, as a young player, that is what struck most people about him.
"But he is a good player as well, and at the moment, when you see the make-up of the Villa team, he probably epitomises the current thinking in terms of Aston Villa players. He has done very well."
Enthusiasm
Stoke and Villa go into the fixture with eight and nine games left this term respectively and both looking secure in mid-table on 34 points.
Hughes is wary of the danger posed by a Villa side who thumped Norwich 4-1 in their outing prior to the Chelsea win, but is in no doubt that Sunday's encounter is an evenly-matched affair.
"Villa have got a lot of energy - a lot of young players in their squad that have that enthusiasm, drive and dynamic element to their play, so it is not an easy fixture for us," he said.
"But we are very close to each other in the league and I think we are two evenly-matched sides.
"You look at their performances, and at what we have done this year. They have good threats in key areas of the field and so have we."
Watch Aston Villa v Stoke on Sky Sports 1 at 4pm on Sunday