Tim Sherwood wants Tottenham players to shake hands with Stoke's Charlie Adam
Tottenham boss Tim Sherwood has told his players to shake hands with Charlie Adam at Stoke on Saturday.
Last Updated: 26/04/14 2:14pm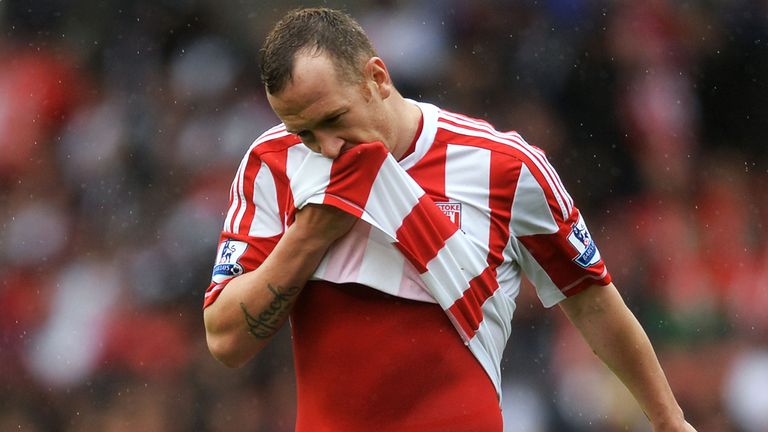 Brazil international Paulinho was forced off with what turned out to be ankle ligament damage after being challenged by Adam in December's 3-0 win over the Potters.
The tackle was the latest in a number of incidents involving Spurs players, with the Scotland international previously clashing with Gareth Bale on two occasions and once with Scott Parker.
Tottenham were reportedly considering making a formal complaint about the 28-year-old and a report in the build-up to the trip to the Britannia Stadium suggested some players may snub him during the pre-match handshakes.
However Sherwood has dismissed the report and insisted there will be no issues between his players and Adam - if he is selected.
"The players will do their duty and shake hands along that line to show respect to their opposition," said Sherwood.
"I haven't heard the boys talking about Charlie Adam at all. They're just concentrating on the game. I don't think it's a problem.
"I would hate to think that every time I tackled someone they'd never shake my hand - I would never have had a handshake.
"Listen, Charlie is a combative player and he tries to do his job the best that he possibly can.
"I like my players to do the same and sometimes you're going to mistime them, but just get on with the game. It's part and parcel of it, unfortunately."
A win would keep Tottenham in with an outside chance of finishing in the top four but Sherwood thinks their chances of catching Arsenal and Everton are slim.
"We think it's unrealistic, barring a massive fall from grace from Arsenal and Everton," he said.
"We're just trying to accumulate as many points as we possibly can and over recent weeks we've done pretty well.
"It was never the brief when I came into the club that we had to finish in fourth place. What was said to me was 'can we make the team a little bit more attractive and score more goals?' and I think I've ticked that box."