Premier League: Stoke boss Mark Hughes fuming with referee Andre Marriner
Stoke boss Mark Hughes was raging after their 1-0 defeat to Spurs, slamming the performance of referee Andre Marriner.
Last Updated: 26/04/14 6:43pm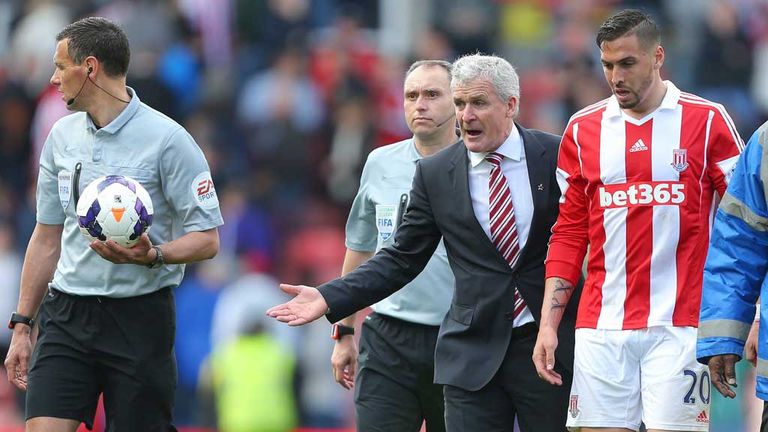 A series of incidents upset Hughes, with the main one being the dismissal of his captain Ryan Shawcross.
Shawcross picked up a second yellow card just minutes into the second half for a foul on Danny Rose. It had seemed like Marriner had waved play-on before bringing the play back and dismissing the Stoke captain.
Then Rose himself was seemingly very lucky to avoid a red card as he shoved Geoff Cameron in the chest as he reacted to a challenge.
And all in all, Hughes was not very happy with Marriner's performance.
"Ryan was travelling at speed, he got the flight of the ball and is trying to get there and Rose got there just in front, it is a foul, clearly a foul but that is all it is and the referee waved play and played on for about five or 10 seconds, he then brought it back and deemed it worthy of a yellow card," Hughes explained.
"Whether he had forgotten he had booked him, which for a senior referee is poor, but he should have had time to realise but for that to be second yellow is rather harsh on us.
"I have been involved in games with Andre Marriner for many years, many seasons and he is a top referee but today I thought his performance was really poor.
"Whether or not his confidence is a bit shot as he has been involved in games which have highlighted some of his decisions in the past and I just think maybe his confidence is a bit low and it is affecting his performance and it frustrated us on numerous occasions, not least on the boy Rose who raised his hands.
"Everyone knows it is a straight red but he gave a yellow and I think that needs clarification and at least give us some understanding why that isn't a straight red, when it should be in everyone's eyes I would suggest."
Shawcross also went down early on in a clash with Emmanuel Adebayor and Hughes admits it was just another incident that went against them.
"Well he was down for a good two minutes so something happened and the referee missed that as well, whether that was deliberate I am not sure, and we felt aggrieved by that as well," he said.
Hughes, though, was still full of praise for his side who he felt clearly deserved to take something from the game.
"I hope this is not going to be swayed from today, which top and bottom of it is that we put in a fantastic performance. Under difficult circumstances I thought we were absolutely magnificent, to a man," he said.
"The crowd responded to what they saw on the pitch, they knew we needed their backing and they were delighted with what they saw.
"The sound in the stadium was something special today and I was really proud with everyone connected with Stoke City today.
"We put in a great performance and had no reward.
"I am really proud as it would be very easy for them, 1-0 down and down to 10 men, to feel like that was the end but I was very pleased with the reaction we got, but it doesn't surprise me."