Stoke play down transfer reports linking Ryan Shawcross with Manchester City
Stoke say they have not received any enquiries about Ryan Shawcross and are determined to keep their best players.
Last Updated: 22/05/14 12:15pm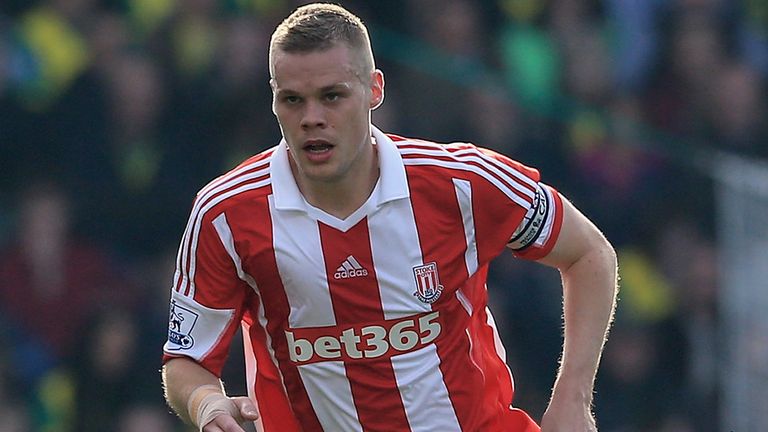 Shawcross was a consistent performer for Stoke last season, helping the club to a ninth place finish, but the centre-back has this week been linked with a move to Manchester City.
Chief executive Tony Scholes insists the Potters have not heard from the Premier League champions and are only looking to strengthen in the summer.
"It comes as no surprise to me what I have read about Ryan. I don't know if there is any truth in it, but certainly we have had no contact," he told The Sentinel.
"Players like him and (Stoke goalkeeper) Asmir Begovic, just to name a couple, will attract attention. That's part and parcel of being a successful football team.
"That's the way it's always going to be. It's one of the prices of doing well, but it doesn't mean you necessarily have to do business with them.
"We don't need to sell. We've been going through our situation for next year, our budgets, what is available in terms of buying players and players' wages and we are not in a position where we need to sell.
"We are looking to strengthen and move forward."
The 26-year-old defender was named as Stoke's player of the year, but is still waiting to add to the solitary England cap he earned in a friendly against Sweden in 2012.
Scholes is surprised that England manager Roy Hodgson did not take another look at Shawcross before selecting his World Cup squad.
"Ryan's had six great years in the Premier League and that's quite something for a player of his age," he said.
"It is interesting that he has reportedly attracted the attention of big clubs in the way he didn't seem to attract Roy Hodgson's attention.
"Anyone around these parts will think he should be on that flight to Brazil with England."
There has also been speculation about the future of Steven N'Zonzi, with reports suggesting the midfielder has handed in a transfer request.
Scholes is unable to shed any light on these claims, but is hoping to hold talks with the Frenchman.
"I wish I could give you a clear answer," he said.
"It's been in the papers over the last week or so that Steven's father has been in touch with us and he's mentioned that Steven's ambition is to play at the highest level that he can play.
"He's alluded to the fact that maybe he would want to move on and do that.
"But I am being a bit circumspect because until I sit down with Steven and his father and hear what they've got to say and why they are saying it, I'm guessing too much."