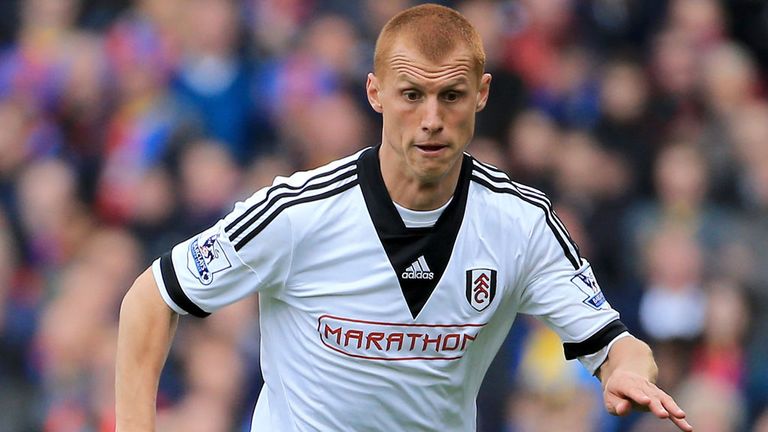 Steve Sidwell has signed a two-year deal with Stoke City having successfully passed a medical at the Premier League club.
The midfielder travelled to the Potteries on Monday, with manager Mark Hughes securing his signature after fending off interest from a number of clubs including QPR, West Ham, Leicester and Sunderland.
The 31-year-old was a free agent after being released by Fulham following their relegation to the Championship.
"It didn't take long for me to make my mind up once I knew Stoke City were chasing me, it was an easy decision to make," Sidwell told Sky Sports News.
"A big factor was the manager Mark Hughes and his team. I worked for them before at Fulham, and with Eddie Niedzwiecki at Arsenal when I was a youngster, so I knew what I was going to be getting day to day from them and obviously the club itself, it's a club that I've respected for many years.
"Coming up to the Britannia and playing there has always been a hard game, but to be coming out there as the home team will be a big buzz.
"There were a few offers but once I sat down and looked at the options in front of me and the people around me this was the only one for the whole package really.
"Football wise, I know what I'm going to be getting from the manager, the team itself has got some fantastic players and I can see the direction and the progress the club wants to make."
Stoke's chief executive Tony Scholes admitted the club were delighted to sign Sidwell, who made his name with Reading, has also played for Aston Villa and Chelsea.
"Steve was much in demand following his release by Fulham and we are delighted to have won the race to secure his signature," Scholes told the club's official website.
"Mark Hughes signed him for Fulham and from talking to Steve I know how much he's looking forward to working with him again.
"Like Phil Bardsley, Steve brings great experience to our squad and I'm sure he will prove to be an excellent addition to our squad."