Police to investigate attack on Chris Kirkland during Sheffield Wednesday draw with Leeds
South Yorkshire Police have pledged to work with Leeds and Sheff Wed to find the fan who attacked Chris Kirkland.
Last Updated: 20/10/12 9:04am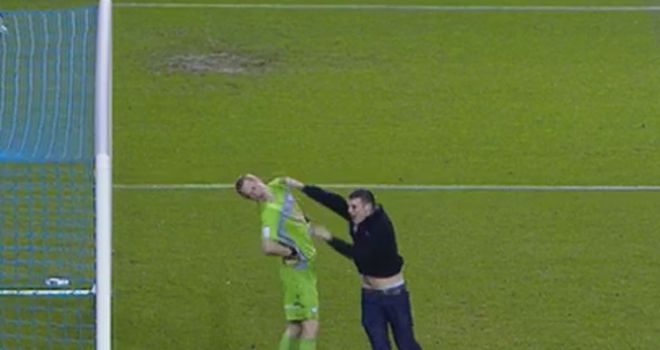 Kirkland appeared to be punched by a supporter who ran from the Leppings Lane End of the ground, which housed some 5,000 Leeds fans, in the aftermath of Michael Tonge's 77th-minute goal for the visitors.
The incident was one of a number of unsavoury ones to have occurred on a shameful night, which saw Leeds fans sing songs about criminal charges against Wednesday manager Dave Jones which were dropped in 2000, while they also appeared to herald former broadcaster Jimmy Savile, who is currently the subject of a child abuse investigation.
Bottles were also thrown onto the pitch from the away end, while home fans sang songs relating to the deaths of two Leeds fans in Turkey in April 2000. After the match, Jones branded the Leeds fans as "vile animals" and called for them to be banned from every away ground in the country.
And, in a statement issued late on Friday, South Yorkshire Police's chief superintendent Jason Harwin said: "During tonight's match, Sheffield Wednesday versus Leeds United, at Hillsborough incidents occurred where it is believed seats and bottles were thrown inside the ground.
"We are also aware of an incident whereby the Sheffield Wednesday goalkeeper has been assaulted by an individual who ran onto the pitch.
"Fans are still leaving the ground and surrounding areas and our priority is to ensure the safe departure of fans.
"Such incidents are not acceptable and won't be tolerated. We will be working with both clubs to identify and quickly bring to justice the persons responsible.
"Thankfully, such incidents are a rarity and we see a minority spoil it for the majority of genuine supporters."
An emotional Jones hit out at Leeds boss Neil Warnock and his players for saluting their fans at the end of the highly-charged 1-1 draw.
He said: "They are vile animals. You talk about racism in the game, but what about the chanting and everything else? It's a form of racism in itself, but then, to go and wave at them? No, not in my book.
"I've had a go at Neil Warnock, I know they are their fans, but you don't go and wave at them after they've done that. It's an absolute disgrace, I thought that had gone out of the game. The authorities had better look at it, and they had better sort it. Otherwise, they will keep doing it.
"And I'm talking about an incident instead of the football, and that's why it was so crazy because it was a great game. High intensity, a few chances, two good goals, and instead we're talking about vile animals, and that's what they are - all of them."
When asked about Kirkland's condition, Jones added: "Chris is sore, and if he had stayed down I wonder what would have happened. I've got an ill goalkeeper on, and if I'd put on three subs, and he's out, what happens then?"
And on the offensive chanting, he said: "I've had it for 12 years, and it's just upsetting that they're allowed to do it.
"I think they should be banned from every away ground now. Unfortunately, one idiot has run onto the pitch and punched my goalkeeper, and they need to sort it quickly."
Leeds issued a club statement condemning the supporter's actions, and Warnock went further in his post-match interview with Sky Sports.
He said: "I felt embarrassed to be a manager, it was an absolute disgrace. I think they should get the guy, prosecute him, and put him in prison. There's no place at all for that.
"Listen, he (Kirkland) went down like a ton of bricks, but that doesn't make a difference. There's no way he should be on the pitch doing that, I hope we can make an absolute issue of it.
"It spoilt everything for everybody. When I see a moron like that I'm not proud to be Leeds manager. I don't mind the rivalry - elbows flying, penalties missed by the referee - but to see things like that...I'm absolutely embarrassed."