Football League Hour: Chris Kirkland's injury hell over, Jack Butland hailed
Chris Kirkland told the Football League Hour his injury hell is over, while Leeds' signing of Jack Butland is hailed.
Last Updated: 26/02/14 3:29pm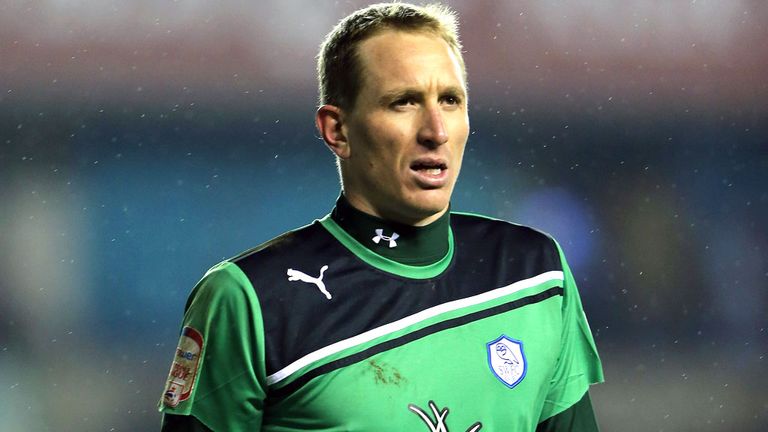 Kirkland, once the most expensive British goalkeeper in history, saw spells at Liverpool and Wigan regularly interrupted by injuries, to the point that he almost walked away from the game, but the 32-year-old, now at Sheffield Wednesday, believes those days are behind him.
He told Sky Sports News Radio's Football League Hour: "Two years ago, I was nearly finished in football. I didn't have many options at all.
"In fact, I think Sheffield Wednesday was the only real option I had. They took a big chance on me and I couldn't have wished for a better (goalkeeping) coach there than Andy (Rhodes).
"Two years ago, when I went out to Doncaster on loan (from Wigan), we played a game against Leeds, got beat 3-0 and my back went into spasm.
"I thought 'this can't keep happening, I've got to do something about it' and I started working with a girl from Wigan called Sarah Berry and she stripped my body down and said 'this is what you need'.
"It's not just my back, it was the hamstrings, the glutes, the thighs - she strengthened everything up. I wasn't involved at Wigan so I had that time to do what I needed to do, and thankfully it looks like it's paid off.
"I've had no problems with my back - it's sore some days, but who hasn't got a sore back some days?"
Meanwhile, former Wolves goalkeeper Matt Murray, whose career was prematurely ended by injury, was the studio guest on this week's Football League Hour and the 32-year-old was full of praise for another stopper, Stoke's Jack Butland, that has joined Leeds United on loan.
"I think he's a really, really good goalkeeper," Murray said. "He broke into the team at Birmingham City still as a very young man, he's got full England recognition and he's played for the Under-21s but what I love about Jack is that he wants to play.
"When he made that move to Stoke, he went straight back to Birmingham on loan, he's also been at Barnsley, and when you're a goalkeeper you just need to play, you need to be tested.
"You can train as much as you like but there's nothing like making those decisions, coming to take crosses, making saves, distributing the ball.
"When he went in at Stoke, when (Asmir) Begovic broke his finger, I thought he did well but it's just so important that he keeps developing.
"He's only 20 but he's already played nearly 100 games and when you meet the lad, he's a proper old head on young shoulders, very mature, very humble and very down to earth.
"I think it'll be good for him and I imagine he's going to play so obviously Paddy Kenny will be disappointed to be coming out of the team."
To find out who Murray rates as the best goalkeeper in the Football League, and to hear the views of Preston striker Kevin Davies, Cheltenham stopper Scott Brown and Plymouth Argyle defender Guy Branston, listen to the full Football League Hour Podcast here or via the Soundcloud player below.