Cardiff City goalkeeper Neil Etheridge realises Premier League dream
By PA Sport
Last Updated: 07/05/18 11:04pm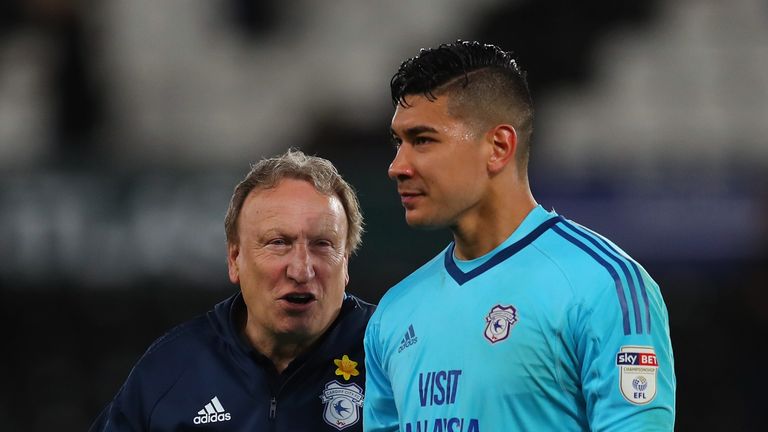 Cardiff goalkeeper Neil Etheridge is ready to live the Premier League dream just a few years after staying on a friend's sofa in an attempt to rescue his career.
Etheridge missed only one league game as Neil Warnock's Cardiff underdogs beat the odds to win promotion from the Sky Bet Championship.
Even among Warnock's squad of misfits discarded by other clubs, Etheridge's story stands out after he came so close to quitting English football.
"I sold my house, I sold my cars and I was about a week away from going to the Philippines," said Etheridge, who was born in London and is set to become the first Filipino to play in the Premier League.
"But I got offered a contract from Oldham to sit on the bench and I did it.
"Being a London boy, to go up to Manchester, I was never willing to travel, but one of my mates lived up there and I asked to kip on his sofa. That's what you've got to do to get by."
Enfield-born Etheridge's career began in more salubrious surroundings at the Chelsea academy, where he started out as a forward before becoming a goalkeeper.
Etheridge represented England at U16 level but six seasons at Fulham brought only one Europa League appearance and loan spells at Leatherhead, Bristol Rovers and Crewe.
By the summer of 2014 he was unemployed and having switched international allegiance to the Philippines, the land of his mother, a few years earlier, his options in England were running out.
It's been an emotional rollercoaster for me. I've got massive respect for the manager here taking me on and sticking by me.
Neil Etheridge
"Four years ago, I left Fulham and was without a club for five months," Etheridge said after Cardiff had beaten his former club to the Championship's second automatic promotion place.
"I paid for myself to train at Charlton as I'm close with the goalkeeping coach there.
"I just trained as hard as I could and waited. It's a very hard industry to be in and stay in.
"That [period] will never leave me, it's made me a lot stronger and who I am today."
It was at this time that the Oldham offer came up and Etheridge signed a two-month deal at Boundary Park before he joined Charlton on a short-term contract.
That was the springboard for Etheridge to spend two seasons as Walsall's No 1 before Warnock signed the 28-year-old last summer on a free transfer.
"It's been an emotional rollercoaster for me," Etheridge said.
"I've got massive respect for the manager here taking me on and sticking by me.
"He'll admit himself we don't always play the prettiest, but we come out with results in a results-based industry.
"This year has been fantastic with the national team qualifying for the Asian Cup for the first time and now promotion to the Premier League."