Bruce - Gordon an option
Steve Bruce admits signing Craig Gordon is a 'possibility', but doubts Michael Turner and Fraizer Campbell will return to Hull City.
Last Updated: 09/06/12 6:19pm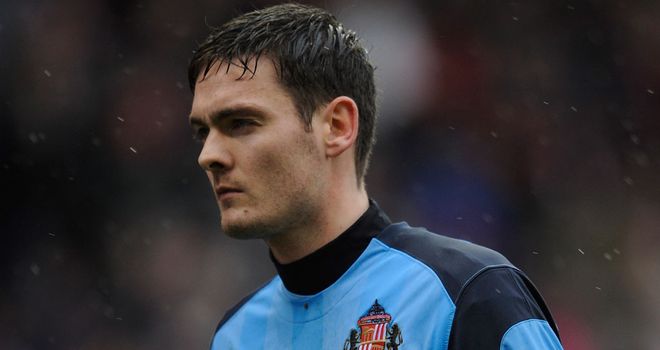 Newly-appointed Hull City manager Steve Bruce admits signing goalkeeper Craig Gordon is a 'possibility', but doubts Michael Turner and Fraizer Campbell will return to the KC Stadium.
Gordon, who played under Bruce at Sunderland, is available on a free transfer after being released at the end of last season and he has been linked with a move to Wigan Athletic.
Bruce, meanwhile, signed both Turner and Campbell for the Black Cats in 2009 during his early days in charge at the Stadium of Light, but has poured cold water on the prospect of the pair again playing for the Tigers.
Centre-half Turner enjoyed three seasons with Hull before moving to Sunderland, while striker Campbell scored 15 goals on loan in 2007/08 to help the club win promotion to the Premier League.
Great players
"Michael Turner? Yes, we will have him back if that's possible, but I don't think it would be," Bruce said at his first press conference as Hull City manager.
"Certainly Fraizer Campbell is the same. I know they were great players here, but my aim is to find some more of them if we can.
"Craig Gordon is a possibility, but it would be wrong of me to talk about individuals."
Former England international Emile Heskey is tipped to be Bruce's first signing, but he insists there is no rush to add to his newly-inherited squad.
He added: "I know there is a clamour for new faces, and what I would say to Hull City fans is there will be, but we have to be patient and take our time.
"The top priority is to analyse the squad, and when we get to work on July 2, everybody starts with a clean bill of health.
"I am coming in to assess everything. The obvious one is a goalkeeper, and it doesn't take Einstein to work out we need one.
"We will look and analyse the squad, try and make some adjustments and hopefully improve it to get where we want to be."