At last!
Sky Sports hails the achievements of Malky Mackay's Cardiff in the wake of a long-awaited promotion.
Last Updated: 17/04/13 2:15pm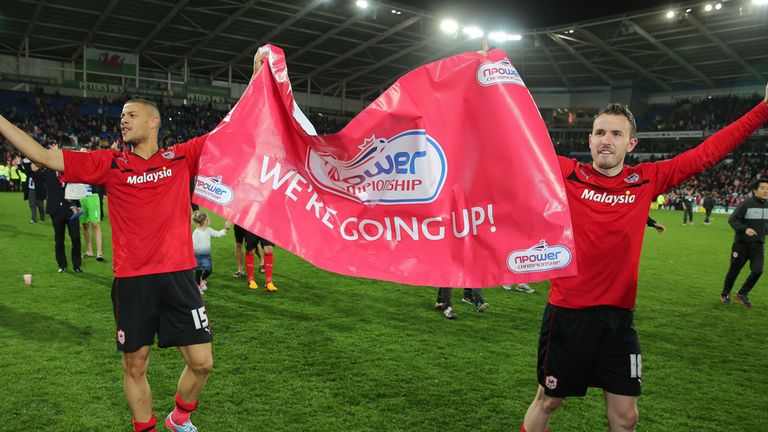 After 51 long years, Cardiff City are a top-flight club once more.
There will be a few bleary-eyed Bluebirds supporters nursing the mother of all hangovers this morning who must have thought this day would never come.
You can't blame them. Generations of Cardiff followers have grown up knowing nothing but Football League competition.
Some of them will be old enough to remember the club slipping in and out of the fourth tier, with dark days as recently as 1996 seeing the Welsh outfit flirt with relegation to the non-league ranks.
That is, however, all a thing of the past, with a return to the Promised Land set to be embraced in 2013/14.
A place in the Premier League was booked on the back of a 0-0 draw with Charlton on Tuesday night - with it fitting that Malky Mackay's side got over the line in front of their own supporters.
While wild celebrations understandably broke out at the final whistle, you got the feeling looking on that an outpouring of emotion was driven as much by relief as it was excitement.
Heartache
After all, Cardiff have been knocking on the Premier League door for some time - only to find the curtains drawn and the lock firmly bolted.
They have come close to forcing their way in on more than one occasion, only to suffer promotion heartache in each of the last four seasons.
In 2008/09, the Bluebirds missed out on a play-off spot on goal difference.
A year on and they were on their way to Wembley as strong favourites, but suffered yet more agony as Blackpool's fairytale adventure carried them to the Premier League.
The last two seasons have seen Cardiff return to the play-offs, only to see all of their hard work over the course of a gruelling 46-game campaign undone at the semi-final stage - by Reading and West Ham respectively.
You could be forgiven for thinking that the club was cursed, that promotion just wasn't meant to be and that after countless spectacular failures belief would dwindle and a competitive squad would break up - leading to an inevitable tumble back down the League pyramid.
Mackay - along with Cardiff's ambitious owners, who have saved the club from financial meltdown and got them back on the straight and narrow - deserve immense credit for having ensured that such a fate was avoided, that everyone kept pulling in the same direction and kept dragging themselves back up off the canvass in the hope that eventually they would land a knockout blow of their own.
Future
They ensured that a Welsh raider cut from the same stone as former Super Middleweight champion Joe Calzaghe has taken to the ring in 2012/13, unleashed a steady and unrelenting stream of jaw-rocking jabs and rib-cracking body shots and left the competition out for the count.
In their 43 fixtures so far this season, Cardiff have picked up 25 wins - more than any other side. They have scored 68 goals, conceded just 41 and kept 18 clean sheets - more than any other side. And, most importantly of all, have acquired 84 points - more than any other side.
The club are back where they feel they belong and can look forward with renewed optimism as they chase down future targets.
With promotion in the bag, wrapping up the Championship title and keeping the party season going has become the immediate target - with one more win all that is required to put silverware in the cabinet.
Mackay, his players, club officials and loyal followers will then be able to let their hair down during a well-earned summer break and count down the days until the new season fixture lists are released.
The Premier League already has the Manchester derby, Merseyside derby, north London derby, North East derby and West Midlands derby - but it has never seen anything like the South Wales derby and it had better prepare itself for an exciting and passionate new addition to the calendar.
Cardiff supporters will probably be black and blue by the time the first of those encounters rolls around, but you can stop pinching yourselves now - this really is happening!