Premier League: Swansea skipper Garry Monk ready for derby clashes with Cardiff
Swansea skipper Garry Monk says the club are already looking forward to their derby clashes with Cardiff next season.
Last Updated: 09/05/13 10:46am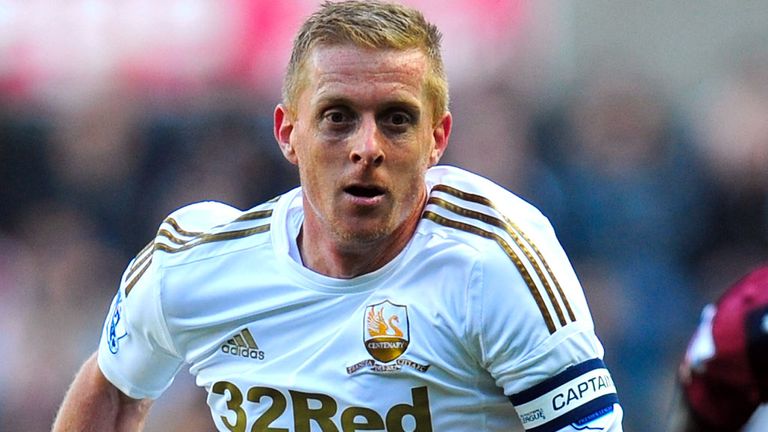 The two clubs will meet in the top flight next season after Cardiff won the Championship to join their bitter rivals in the Premier League.
The hype around the games is already building and this was added to when Cardiff skipper Mark Hudson was caught on camera leading an anti-Swansea chant during their celebration parade.
Monk says that Hudson's antics will only help inspire them next season, and said: "We know about the history between the clubs and I saw a little bit on YouTube this week that made me laugh a little bit.
"Fair play to Cardiff, they're celebrating, they've obviously had a few beers and got above themselves, but that's the way it goes.
"As club captain, I'd wouldn't have done that. I might have thought it, but not said it. People do what they do, if anything we'll try and use it as motivation.
"At the end of the day, let them do what they've got to do and we'll concentrate on us. Come game time we'll see what happens.
"I remember when we played them for the first time in ages, when we beat them 1-0 in the cup, and players like Roger Johnson and Jay Bothroyd were predicting scores and talking in the papers.
"But before the game you get the build-up and with the other media in the Premier League it's going to be even bigger.
"I think it's great; it's a brilliant rivalry and I think it's great for the Premier League to have that clash.
"Credit to Cardiff, they deserve to come up and anyone that wins the Championship you say fair play to them.
"Nearer the time they'll sense the build-up to those games. It's like a cup final when we play them and what a great occasion for it to happen in the Premier League.
"The two sets of fans are looking forward to it I'm sure, I bet they can't wait for the fixture lists to come out, but we've still got a job to do this season."