World Cup qualifiers: Aaron Ramsey applauds spirited Wales after Belgium draw
Aaron Ramsey hailed the resilience shown by Wales as they came from behind to snatch a 1-1 draw against Belgium.
By Ben Hampshire - Follow me: @BH92
Last Updated: 16/10/13 12:13am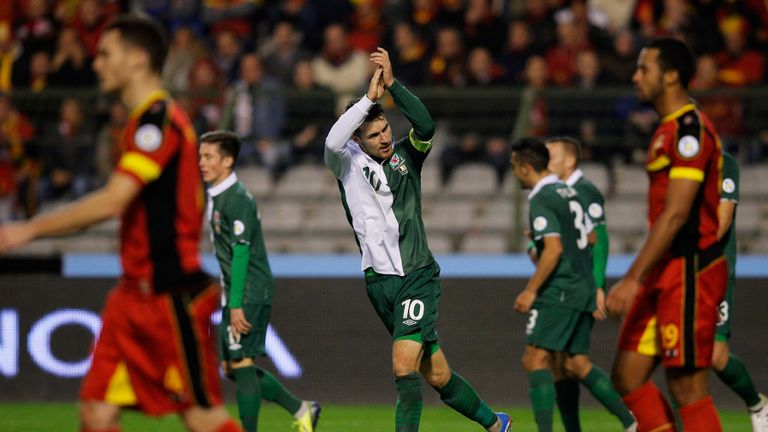 The Wales captain scored a late equaliser as Wales came from behind to spoil Belgium's World Cup party on Tuesday night.
Belgium entered the tie with qualification already guaranteed, while Wales were playing for pride after their hopes of making the 2014 tournament had already been dashed by a poor campaign.
Despite spending the majority of the game penned in their own half, Wales managed to craft some fine forward play - most of which innovated by Ramsey - and the Arsenal attacker lauded the spirit shown by his team-mates.
"In the first half I thought we did ever so well. We settled into the game very early and we got the ball down there and kept playing," he told Sky Sports.
"We created chances and maybe we could have had a couple of penalties.
Professional
"In the second half I thought the injury to James Collins was a big blow for us, he is an experienced player in this team and that was a big blow."
Ramsey's eighth international goal came in the closing minutes from a beautifully weighted Craig Bellamy pass, which proved to be the 78-cap striker's final Wales contribution as he bows out of international football, and the midfielder applauded the retiring star.
"He's had a fantastic Welsh career," he added. "You couldn't ask for a better professional and the last two games we have put in an incredible performance for him.
"We came under a lot of pressure tonight and we showed great signs of what we're all about.
"We were playing against a team who have won all their games and we have come away from here with a point tonight."