Malky Mackay orders Cardiff to keep their cool in South Wales derby
Cardiff boss Malky Mackay has urged his players to keep their cool in Sunday's south Wales derby with Swansea.
Last Updated: 04/11/13 8:04pm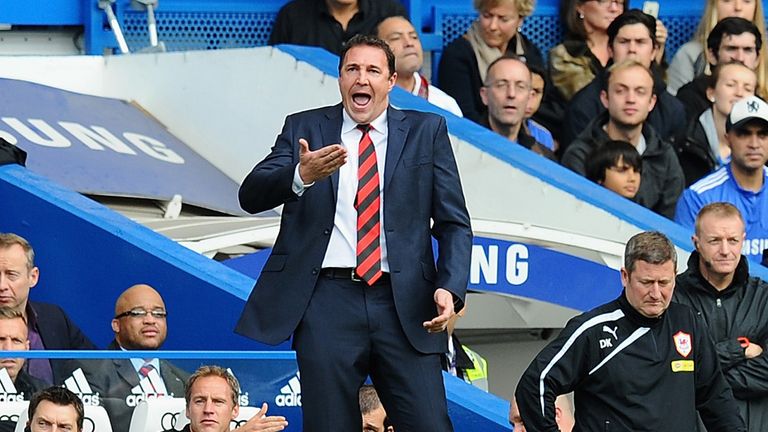 It will be the first time the two old rivals have met in the top flight, and Mackay's first experience of the derby.
There will be a passionate atmosphere in the stands but Mackay is relishing the prospect.
"There's a lot of importance attached to the game, first time we've played each other in the top level in the Premier League. That being the case is very special for everyone in south Wales in terms of both ourselves and Swansea. It's got an extra little bite to it," he said.
"I've watched on television the south Wales derby and it was fantastic then.
"I know what the passion of our fans is like, I know what our stadium can be like but I don't think it's going to touch the sides of what we're going to feel on Sunday.
"I think this is going to be an incredible atmosphere when we walk out there on Sunday and I think it's something all our fans have been looking forward to since the day we were promoted. It does hold that extra little special edge."
The City boss has warned his players however that they must keep their cool on the pitch.
"That's always something that can happen in derbies, I got sent off in one myself, I do realise that and understand that but I think that little bit of extra intensity that's in every player is good for them going out there. You've got to be careful, you've got to be calm and you've got to be professional, doing the best for your team and keeping 11 men on the pitch.
"That's something again you've got to be aware of in that type of situation but I think it's something the players embrace."
The Bluebirds enter the game on the back of a tumultuous few weeks which have seen Mackay's head of recruitment, Iain Moody, dismissed and replaced on an acting basis by 23-year-old Kazakh Alisher Apsalyamov.
Apsalyamov has no known experience in top-level football and he is reportedly not yet working in an official capacity whilst the Home Office investigates his work permit situation.
Mackay does not believe the issue will have an effect on Sunday's game, but when asked if the Apsalyamov situation surprised him, he said: "Nothing surprises me, it's just something the chief executive can get on with and deal with. Nothing surprises me, my focus is on my team.
"We have waited 51 years to get to this position and be in the Premier League. I won't let anything else get in the way of that.
"There is a lot of stuff going on around about it, but my job is to manage the team, be proud of my players and prepare them in the best way possible, so myself and the staff and players are focused on the routine of the week."
Watch the South Wales derby live on Sky Sports 1 HD from 3.30pm on Sunday.