Premier League: Cardiff defender Andrew Taylor wants fan boost for Swansea game
Cardiff defender Andrew Taylor has urged the club's fans to give them a boost as they prepare to face rivals Swansea.
Last Updated: 04/11/13 8:04pm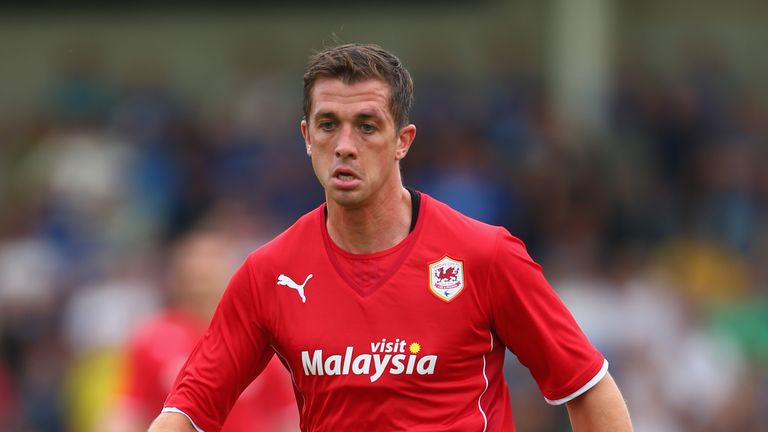 The two sides face each other at the Cardiff City Stadium for the first time in the top-flight in a contest left-back Taylor likens to the Old Firm derby in its intensity.
The 27-year-old has played in the Tees-Wear derby for Middlesbrough against Sunderland and he is expecting another fevered battle over the weekend, when he is keen for his side to emulate the success of their 3-2 home win over Manchester City in August.
"I've not experienced a rivalry of this sort before," he said.
"There's a lot of hostility, but I hope that passion does not spill over. We hope to use the atmosphere to our advantage and do something similar to Manchester City.
"My message to the fans is be passionate, be vocal and get behind the team but don't overstep the mark.
"We want a good, entertaining game for the fans and hopefully we win.
"Swansea are a very good footballing team and they like to play the ball on the ground a lot.
"But it is important for us to get three points and we want to give our fans something to cheer about. Hopefully we can have the edge."
Taylor has no hesitation in likening the clash to the rarefied atmosphere of Celtic's games with Rangers following a high-profile build-up to the game.
"There has been a lot more media spotlight on this game. The fans keep stopping me in the street and telling me what the game means to them," he added.
"This is bigger than three points and there is a lot of pride at stake for both teams. It's massive for both sets of supporters.
"I've played in Middlesbrough and Sunderland derbies, but it is nothing compared to this. It's on a par with Celtic and Rangers for me."
Watch the south Wales derby live on Sky Sports 1 HD from 3.30pm on Sunday.