Premier League: Cardiff boss Malky Mackay ready to do battle with Manchester United's David Moyes
Malky Mackay is looking forward to locking horns with David Moyes when Manchester United visit Cardiff on Sunday.
Last Updated: 24/11/13 3:11pm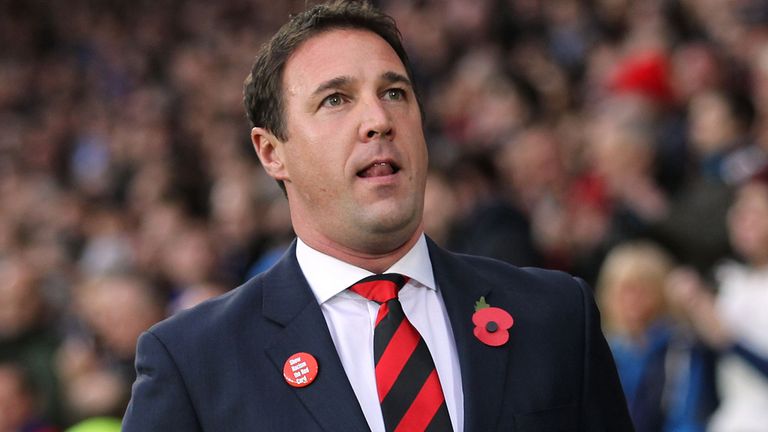 Mackay revealed how much of a help Moyes has been to him during his career and he believes United have appointed the right man to replace Sir Alex Ferguson despite a slow start to the season.
United's form has improved significantly in the last six weeks and Mackay knew it would not be too long before Moyes showed he is up to the task of taking on one of the country's top teams.
Speaking on Sky Sports News' Weekend Warm-Up, Mackay said: "I do think it was absolutely the right appointment going to Old Trafford.
"The way that he approached his time at Everton, you know 10 years there and built that club I think the next step was to go to Manchester United.
"When we were on a pro-license in Scotland we were invited down we had a weekend there with him.
"I loved the detail he went into, he was very open, very giving. They played Wigan on the Sunday, we watched that then on the Monday he showed us around the training ground and then we had a couple of hours with him on all aspects of management.
"He's someone that I look up to and he's impressed me massively."
Asked how similar in character Moyes is to Ferguson, he added: "I think they've got certain values that are very similar, hard-work and a real eye for detail as far as football's concerned and a real passion for winning.
"I spoke to David in the summer about congratulating his time at the club and I spoke to him more recently again for five or ten minutes about foreign ownership because obviously the Glazers going in to Man U was something different, I suppose, for them.
"You've got to be humble to start with but you've got to be patient and be calm and know where they're coming from as well.
"You've got to understand other cultures and other ways of thinking as well and see what way they're coming from, whether it's the business angle or just basically finding out about football and they're culture. So yes, it's something I took from him."
Watch Cardiff City take on Manchester United live on Sky Sports 1 HD on Sunday with the programme starting at 15:30