Premier League: Cardiff boss Malky Mackay vows he will not resign
Malky Mackay has vowed he will not resign despite an ultimatum from Cardiff owner Vincent Tan to step down or be sacked.
Last Updated: 21/12/13 6:58pm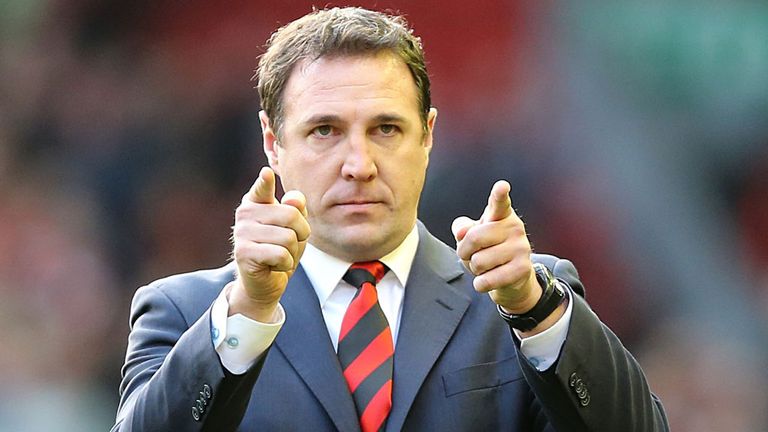 The Scot has no intention of doing the former and so will await the next move from the owner, who was present at Anfield to see Cardiff beaten 3-1 by Liverpool on Saturday afternoon.
Luis Suarez continued his sensational form as he scored two and created the other for Raheem Sterling, with Jordon Mutch's second-half response scant consolation.
"There is nothing else I can tell you that you don't already know," said Mackay.
"I am someone who will absolutely not resign, I don't think there is any need for that to happen.
"Crystal clear there will be absolutely no way I will be resigning from Cardiff City."
Asked whether he now expected to be sacked, Mackay added: "That is not a question you should be asking me. That is surely a question for someone else.
"I am doing the job I have always done, which is preparing the team and looking after the club on a day-to-day basis.
"I will be in work tomorrow if it is anything to do with me. One thing I can tell you is that I won't be resigning as the manager of the football club."
Asked whether he had spoken to Tan after the game Mackay added: "That is not something that normally happens.
"We are finishing here and then we have a plane back to Wales."
Decisions
Mackay does not believe his record with the club, in which he has taken them to a Carling Cup final and got them promoted to the Premier League for the first time, warrants the sort of situation he now finds himself in.
"My day-to-day job is to prepare a team for the Saturday. That is the main task I have and that is what I think I have been doing properly for two-and-a-half years," he said.
"Results in the main show that. Anything other than that you really have to ask the people who make the decisions."
The travelling fans certainly made their feelings known, singing pro-Mackay and anti-Tan songs throughout and remained behind inside Anfield chanting their support some 45 minutes after the final whistle.
He also received warm applause from the home fans as he departed down the tunnel having acknowledged the support he had received from the away end.
"The supporters have been immense since day one, two-and-a-half years ago," he said.
"This season they have shown everyone what a class act they are on their travels or back in south Wales.
"They have shown they are a great addition to the Premier League and I hope it stays that way.
"I am very humbled that our fans have taken to myself and my staff and the team.
"They are very passionate people who love football and they desperately want success.
"When we got to the Carling Cup at Wembley I saw 40,000 going bananas and they should really be enjoying the Premier League season.
"But there have been situations for non-footballing reasons which have been in the press and that is why earlier in the season I apologised for what they have had to put up with.
"I am proud of the job and the association I have (with the club) and I couldn't walk away from the people who work for me: training ground staff, coaching staff, staff at the stadium, that group of players who I have so much respect for and also the fans.
"I am not going to walk away from them either."