Malky Mackay expresses regret after being sacked by Cardiff
Malky Mackay is leaving Cardiff City with his 'head held high' after being sacked as manager.
Last Updated: 28/12/13 6:14pm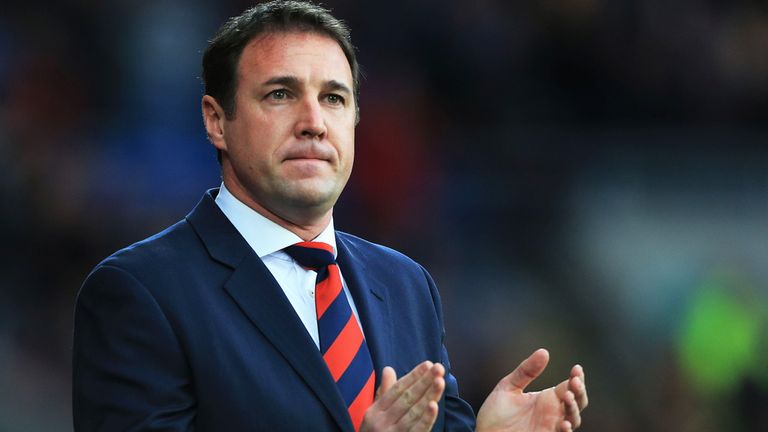 The Scot's future at the Cardiff City Stadium has been under scrutiny of late, and last week he received an email from owner Vincent Tan telling him to resign or be sacked.
He remained in charge for the defeats by Liverpool and Southampton, and was scheduled to meet Tan on Saturday, when Cardiff face fellow Premier League strugglers Sunderland at home.
However, Cardiff released a statement on Friday confirming that Mackay has been axed and the 41-year-old issued his response via Sky Sports News.
"It is with the deepest and most sincere regret that I today confirm my sacking as manager of Cardiff City FC," Mackay said.
"As disappointing as today's decision is, I am already able to look back at my time at Cardiff City FC with immense pride and joy given the number of milestones the club achieved during the last two-and-half years.
"A League Cup Final appearance followed by promotion to the Premiership for the very first time, achieved as winners of the Championship, allowed the club a move back to this elite level after a 51-year absence.
"I have enjoyed my time immensely at this fine club, in this great city, and throughout I've always attempted to put my own personal stamp on specific areas that I believe to be all-important such as the implementation of a progressive culture as well as a complete professional approach to all aspects of day-to-day management that are required if you are to become a top club - and more importantly to remain as one.
"I would like to thank my players, all of my direct footballing staff, all the people behind the scenes at the club and most importantly the people of Cardiff, who have stood behind me resolutely throughout my time here and especially in these recent turbulent months.
"I leave with my head held high having gained a level of experience that, upon reflection, I suspect would have been difficult to find anywhere else in British football.
"The foundations laid at Cardiff City FC will provide a solid platform for my successor, and for the sake of the club, I hope that all of the progress that has been made so far will not be impaired in any way by today's enforced changes."
Mackay was appointed Cardiff boss in June 2011 and, having guided the team to the Championship title last year, leaves after 125 games in charge with a win rate of 43%.
A group of around 200 Cardiff fans protested against Tan before the home game against Southampton on Boxing Day, and the club's owner released a statement following Mackay's sacking.
Tan said: "There has been a good deal of publicity generated by and about Mr Malky Mackay over the last few months.
"Indeed far too much dirty linen has been exposed to the public gaze. But, I stress, not by me. Indeed, I have deliberately not responded to this, hoping that the club can be judged on its football rather than personalised arguments about who said what to whom.
"I have, however, regretfully concluded that it is no longer fair to the club, its players, its fans, or the public more generally, for this uncomfortable state of affairs to continue. Cardiff City Football Club means far too much to us all for it to be distracted by this."
The League Managers' Association also responded to Mackay's sacking.
Chief executive Richard Bevan said: "We are all very disappointed for Malky and the club. We must recognise that in over two years as manager, he has set very significant club records including guiding Cardiff to their first ever League Cup final.
"Also leading the club to promotion to the Barclays Premier League for the very first time, notably this ended their 51-year absence from the top flight and duly he was named the Championship Manager of the Year.
"Malky has an excellent record of success with the club and he should be commended with the manner in which he has conducted himself with such integrity during what, for him, has been an extremely difficult period."
Ole Gunnar Solskjaer has emerged as the leading candidate to succeed Mackay.
Although it is understood that no formal offer has yet been made to the former Manchester United striker and current Molde manager, he is firmly on the Bluebirds' radar.
Just last week, Molde confirmed they had received approaches for Solskjaer, whose contract expires next year, but would not reveal from which clubs.
It is also understood that the next Bluebirds' boss will be backed by Tan in the transfer window; Mackay was told just last week "not a single penny" would be available to him in January.
Former England boss Sven-Goran Eriksson, Turkish journeyman Yilmaz Vural and Basel boss Murat Yakin are also believed to be among the contenders.