Premier League: Cardiff confirm Ole Gunnar Solskjaer as new manager
Ole Gunnar Solskjaer has been confirmed as the new manager of Cardiff City on a rolling contract.
Last Updated: 02/01/14 8:20pm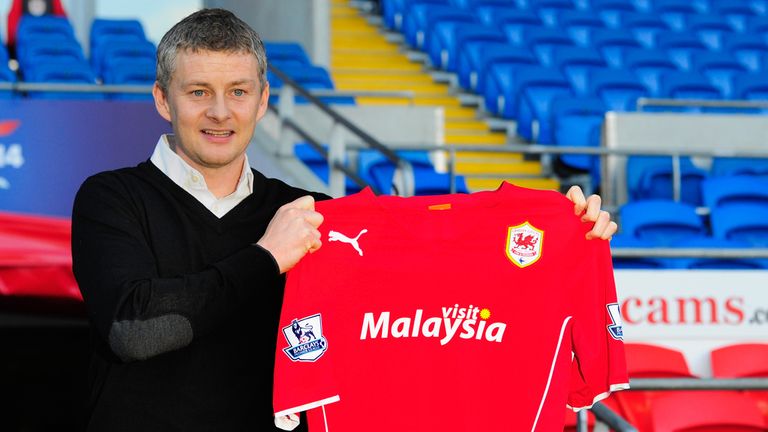 The former Manchester United striker spent Thursday morning at the Premier League club's training ground after holding further talks with chairman Mehmet Dalman over replacing Malky Mackay, who was sacked last Friday.
"I feel lucky to be back in the Premier League. I had to have a talk about it with the family obviously but it is a great opportunity," said Solskjaer, who moved quickly to endear himself to the club's supporters.
"Short-term the most important thing is getting points and performances, but longer-term, finishing above Swansea must be an aim," he said with a smile.
The 40-year-old played down reports that Sir Alex Ferguson had warned him against working under owner Vincent Tan, with whom he watched his new side suffer a late 2-0 defeat to Premier League leaders Arsenal at Emirates Stadium on New Year's Day.
"He has wished me the best and given me some good advice as he always does. I had a good conversation with him," he said. "It is absolute nonsense (that he told me to turn down Cardiff).
"They have convinced me they want me to be in charge of the football. Communication and dialogue is key to any relationship. Everything isn't what it seems from the outside. Don't always believe what is in the press."
Solskjaer led Molde to back-to-back Norwegian titles, following 14 years as a player and coach working under Ferguson at United.
"I've always wanted to come back to the Premier League and after speaking to Mehmet, he convinced me to come," Solskjaer added. "The passion of the fans and around the area for the club is a fantastic challenge.
"Cardiff have shown in the last three or four years that they are ready for the next step.
"One of the factors that intrigued me most was the passion of the fans and the support they give their heroes. Every single Saturday they come out and scream their hearts out and if you want to manage a football club you want that passion. I'm looking forward to convincing them that I am the right man to take them forward.
"My brand of football will hopefully make them proud of the way we play football. My brand is forward-minded. Forward passing, forward running. I want to attack. I want the players to express themselves."
Solskjaer said he will take his time to assess his squad before deciding whether to bring in new players during the January transfer window.
"We need continuity and stability," he explained. "I've had numerous calls from agents and staff who want to come and work for this great club but I will take my time.
"I have met the players, we had our first chat. They are a great bunch of lads. I am lucky. I am inheriting a great squad of fantastically hard-working talented young players who have been used to winning games in the last four years.
"They are playing in the Premier League now and that's the best time of your life. They have to enjoy it. I wish I was 25 again and playing in the Premier League. I hope to inspire and motivate them and improve them as players and as a team."
Solskjaer will bring in former United coaches Mark Dempsey and Richard Hartis to work with him at Cardiff.