Transfer news: Peter Odemwingie played it safe over January move to Stoke from Cardiff
Stoke's Peter Odemwingie played it safe in January's transfer window to ensure he did not make a fool of himself again.
Last Updated: 03/02/14 6:54am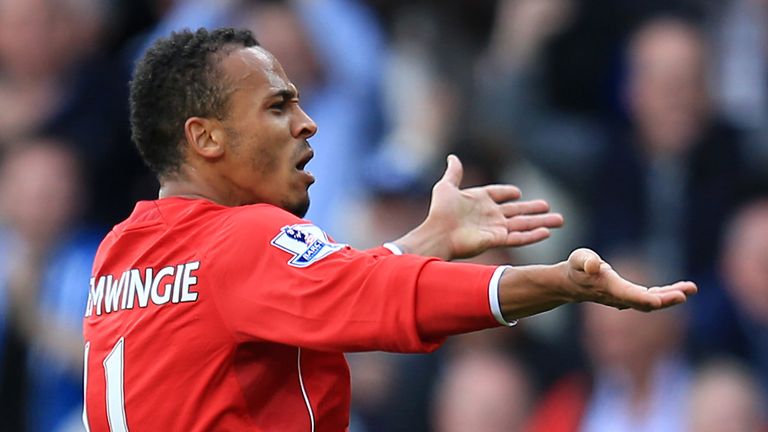 Odemwingie will always be remembered as the player who turned up at QPR to complete a transfer from West Brom, unaware talks between the two clubs had already broken down.
To general amusement and bewilderment, Odemwingie had to go back to The Hawthorns in a bid to repair his relationship with the Baggies.
The 32-year-old did go on to make another seven appearances but it was clear Odemwingie had no future at the Midlands club and a summer move to Cardiff brought no end to his torment.
Now Mark Hughes has snapped him up to help in Stoke's survival fight, and already the Nigerian has a win over Manchester United to celebrate.
Yet he realises it may be some time before that bizarre trip to Loftus Road is forgotten, which is why he had no intention of doing it again.
"Absolutely it was different," said Odemwingie. "This time I made sure everything was right. Everyone had spoken, including the managers, but I said I would be the last to confirm.
"It wasn't until the last piece of paperwork was done, just before I got on the plane to Sunderland, that I put up the picture of me with my Stoke shirt. You can't blame me for that."
Odemwingie shows no outward sign of being scarred by the experience.
In fact, he is happy to be an example for others about the pitfalls to avoid.
"We all learn in life," he added. "The episode was a bit exaggerated, but I read an interview with Gareth Barry, whose move (to Everton) was done at the last minute, and he said he stayed away from the ground until he knew his move was going through because of what happened to me.
"I'm happy to serve as an example for players to avoid it because afterwards it was a bit stressful."
Though he was used in a wider position than he would prefer in the 2-1 win over United, Odemwingie does appear to have a significant role to play at Stoke.
There is still part of his initiation to go through, though, having arrived too late to produce a required musical performance in advance of the midweek defeat at Sunderland.
"Apparently, it is a tradition for new players here to sing a song on your first away trip," said Odemwingie. "I'm learning from Peter Crouch, so I will go for a Michael Jackson song, with a little dance at the end.
"It's a great dressing room with a lot of jokes, so I can't escape.
"I'm happy to have more time to prepare and know the boys more, so it will not be so embarrassing."