Ole Gunnar Solskjaer says previous events at Cardiff are nothing to do with him
Cardiff manager Ole Gunnar Solskjaer has refused to criticise his predecessor Malky Mackay.
Last Updated: 14/02/14 4:26pm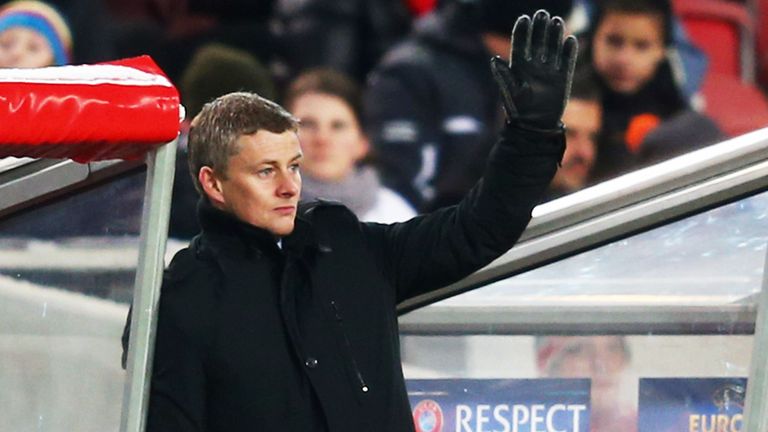 But Cardiff are now second-from-bottom of the table and Solskjaer did add that he was constrained in the January transfer window by the dealings of the previous regime.
Mackay was sacked in December after a series of disagreements relating to the Bluebirds' acquisition of players in the summer.
And the club raised the subject once again on Thursday when chief executive Simon Lim issued a statement which was critical of Mackay, in particular for his signing of forward Andreas Cornelius, who has since returned to FC Copenhagen.
However, Solskjaer said: "I can't put myself into anyone's shoes and say how I feel about what happened before.
"We are now in the Premier League and that is due to many things, including the former management and the owners' money. Together they made progress and made the club successful.
"It's not got anything to do with me, what happened before. I am just focused on my team because the January window was chaotic."
Solskjaer looks to the future
Lim's statement praised Solskjaer's work in the January window and the manager added: "It is early doors for me and it is encouraging they are happy with what I have done, but what happened in the past is not for me.
"It guides what resources they give me and what remit I have. I'm just running the club as I would like to.
"I have the resources that were given to me. It was different in the summer, they had more money as they had just come up.
"Now, it is not like that. It was not right when people said I had £25m to spend, but you have to look at the long-term, you can't just panic and only think of the short term. I only did what I could with the resources I was given.
"I have spoken with the owner (Vincent Tan) quite a few times. He is very committed to the club, he wants us to be successful and he wants me to be successful. He helps me, he has been everything I hoped for."
Local rivalry 'good' for Cardiff
Solskjaer also attempted to draw a line under his squabble with Swansea head coach Garry Monk over a series of contentious incidents in last week's 3-0 derby defeat.
Monk accused Cardiff's Kim Bo-kyung of punching and headbutting Wayne Routledge but Solskjaer said: "I would like to forget that game.
"We got no points and a three-match suspension for Craig (Bellamy), who did nothing.
"I cannot comment on what he (Monk) said, but I did see someone kick Wilfried Zaha off the ball.
"But this rivalry between Cardiff and Swansea and us being in the Premier League is good for us.
"I think we push them and they push us, so let's not make it like we are proper enemies and accuse someone of something that has not happened."
Cardiff now turn their attention to Saturday's FA Cup fifth-round tie at home to Wigan.
And Solskjaer said: "They proved last season what the FA Cup was all about, a chance for smaller clubs to win trophies.
"I would like to go one better than they did, and win the cup and stay up but, in any way, shape or form, if you play in a cup game, you want to win it.
"It's a chance for some players to come in and show they should be playing in the league and I do not go into any game hoping we lose."