Richard Scudamore admits Premier League are concerned by UEFA's FFP plans
Premier League chief Richard Scudamore admits that they are not happy with UEFA's Financial Fair Play rules.
Last Updated: 14/02/14 3:50pm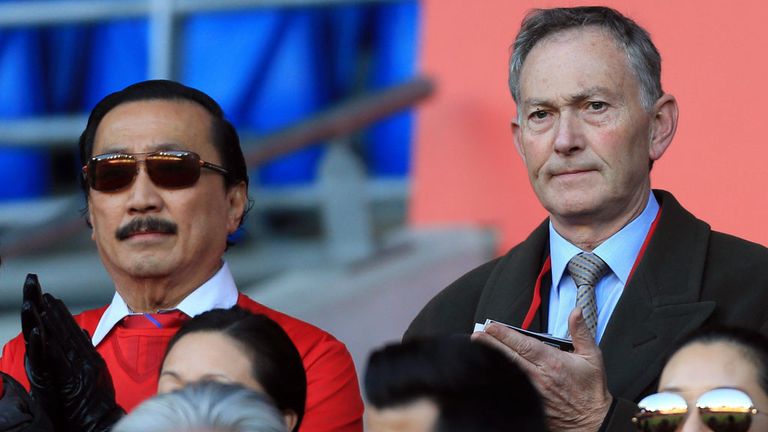 FFP rules were brought in by UEFA in 2012, but the full regulations will not be implemented until 2015.
The Premier League has it owns FFP system, but Scudamore feels the UEFA system is causing tension amongst clubs.
"It has set club against club," he is quoted by the Daily Telegraph.
"They are all looking at each other and policing each other; it's another thing to have a snipe at each other about. But it's here to stay.
"You can write whatever rules you want but implementing them and coming up with the appropriate remedial action is the hardest part - and we are not at that phase yet. The lawyers will be doing well.''
Scudamore would not be drawn on inflating Premier League wages, insisting that the 'market' determines what people earn.
"Do I worry about players' wages?'' said Scudamore.
"You can't justify their wages; you can only explain them. The really talented people are hard to find and the market decides what they're going to be paid."
Asked whether Wayne Rooney would be worth the reported £300,000-a-week, he added: "Worth it? Somebody has made the calculation that in their model, their world, he is worth paying that money to stay at the club and play for the club and that's the end of it."
And Scudamore insists the Premier League are continually looking at fans grievances, especially on things like ticket prices.
"People always quote the highest pricing. We've just done a survey of ticket pricing and you can buy adult tickets from £20 to £41 across the league or the kids' discount stuff," he said.
"I'm not saying it's inexpensive but it's not all at the high end that every one wants to quote. We have always said clubs should stretch their prices. There should be affordable ticketing at one end.'' He paused, then added: "We are heading for record attendance; we are currently tracking at 95.8 per cent attendance.''
Cardiff and Hull
Scudamore also discussed the issues that some fans have had with their owners in recent months, with particular reference to Cardiff and Hull City.
"Cardiff City changing shirt colour is less of an issue than (Hull City) changing names," he said.
"What do I think about Cardiff playing in red? It would be preferable if they played in blue but I don't think it's the end of civilisation as we know it. I have spoken to him (Cardiff owner Vincent Tan) just as I have spoken to Hull (owner Assem Allam) about their name-change.
"Sometimes it is hard to understand why somebody would want to do something; clearly in Vincent's case it is recognised that red is a very, very significant colour in Asian culture. But he hasn't been universally criticised by all his own fan-base. If the fan-base was asked we'll play in red or blue, Premier League or non Premier League, they would probably play in yellow in the Premier League.
"We have made our feelings known to Hull. At some point, when there's that many people think it (Tigers) is a bad idea, you really have to start to listen.
"They are listening but it is an unshakeable belief and when people have an unshakeable belief there isn't a lot you can do to shake that. But it's an FA decision, not ours. We are not going to be handing back club ownership to the local communities. It is not going to happen."