Premier League: Cardiff's Craig Bellamy up for relegation fight ahead
Craig Bellamy is determined to play as full a part as possible in helping Cardiff stay in the top flight.
Last Updated: 02/03/14 3:51pm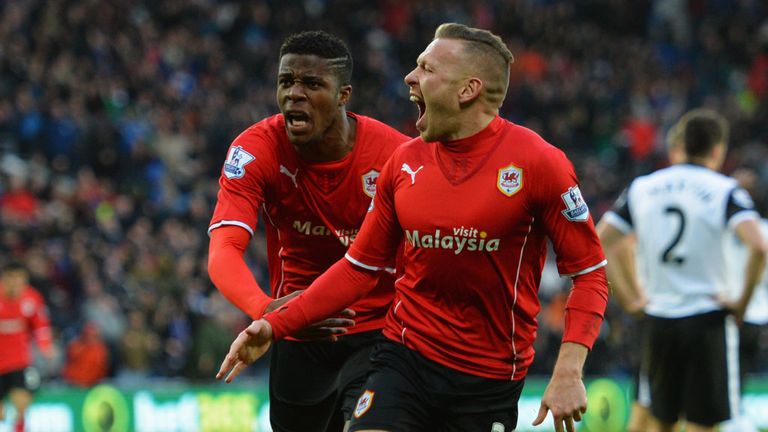 The 34-year-old is set to return to the Bluebirds' line-up at Tottenham on Sunday following a three-match ban for an off-the-ball incident involving Swansea's Jonathan de Guzman.
After just one win in 11 games, the Welsh team have slipped to second-from-bottom but Bellamy insists Ole Gunnar Solskjaer's side can turn things around, starting against a Spurs outfit who beat Dnipro in the Europa League on Thursday.
He told the Daily Star: "When they have lost games in the league, it has been after Europe. We are aware of that.
"We will need to start with high energy and make sure we defend better than we did (in the 4-0 home defeat) against Hull.
"They haven't performed as well as they can at White Hart Lane.
"This is an opportunity for us, as long as we go there in a positive frame of mind."
Great achievement
There has been speculation Bellamy could retire from playing at the end of the season and he admits he would love to help to keep his hometown club in the top-flight in what could prove to be his swansong.
He added: "Who knows where my career goes at the end of the season? However, if it is to finish, what a nice way to go out by keeping this club in the Premier League.
"It would just be a great achievement, like promotion was last year.
"I would love to leave the club in a healthy state. It might not match the achievement of going up last season, but it wouldn't be far off.
"There are certainly enough points up for grabs against teams we are capable of beating. We just need to start winning."
Bellamy thinks he can now play his full part in deciding games in the Bluebirds' favour.
"I'm looking forward to the relegation battle and I think we can stay up. I feel sharp and quick and I believe I've got a very good chance of deciding games now. I didn't feel like that at the start of the season," said Bellamy, who added that everyone needs to pull together at the club.
"This is where players need to step up. It's easy to play well when you're winning games.
"But when you are up against it, you see who your good players are.
"You find out who the real people are at the football club."