Premier League: Cardiff fans to protest about club's change of shirt colour
Cardiff fans have confirmed details of a protest about the club's change of shirt colour on March 22.
Last Updated: 12/03/14 7:11pm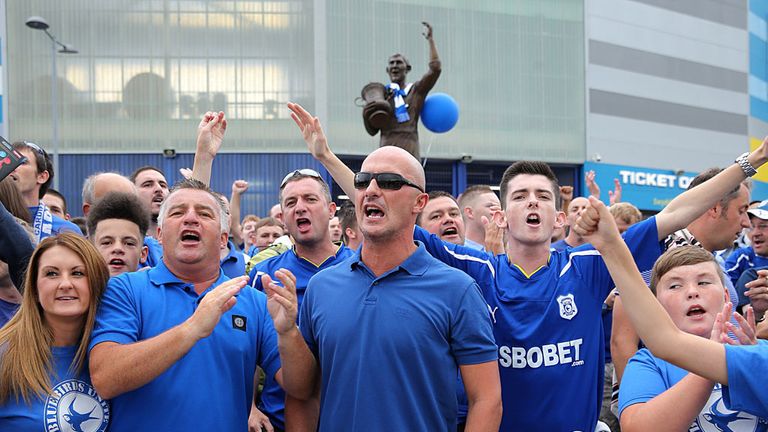 A section of supporters have vented their anger after Cardiff owner Vincent Tan decided to change the team's shirts from blue to red, and the club badge from a bluebird to a dragon.
The planned protest will be held ahead of the home game against Liverpool, with supporters expected to march to the Cardiff City Stadium from a nearby pub.
Having reached the ground, they then plan to sing "pro-blue songs" and give a "show of blue pride" outside the main reception area.
Once inside, fans will continue the protests from 19 minutes and 27 seconds into the match with scarves, flags and songs. Cardiff won the FA Cup, their only major honour, in 1927.
A statement on the Cardiff City Supporters Club website said of the protest: "It will be an opportunity for all Cardiff City fans to show that they do not support the rebrand of the club's colours and strongly desire a return to Cardiff City's traditional blue kit and Bluebird badge.
"The march is backed by all major fan groups and will be supported by members of The Cardiff City Supporters Trust, The Cardiff City Supporters Club, Cardiff City Forum, Cardiff City Online and Bluebirds Unite.
"In addition all other supporters groups, individual supporters and their families are invited and encouraged to attend.
"The one and only objective of the march is for fans to display a mass show of pride in Cardiff City's heritage and tradition and to peacefully demonstrate our strong desire to return to our blue kit with Bluebird badge."