Ole Gunnar Solskjaer not feeling pressure of Cardiff's relegation scrap
Ole Gunnar Solskjaer has the temperament to guide Cardiff through their relegation scrap, according to Mark Dempsey.
Last Updated: 28/03/14 2:15pm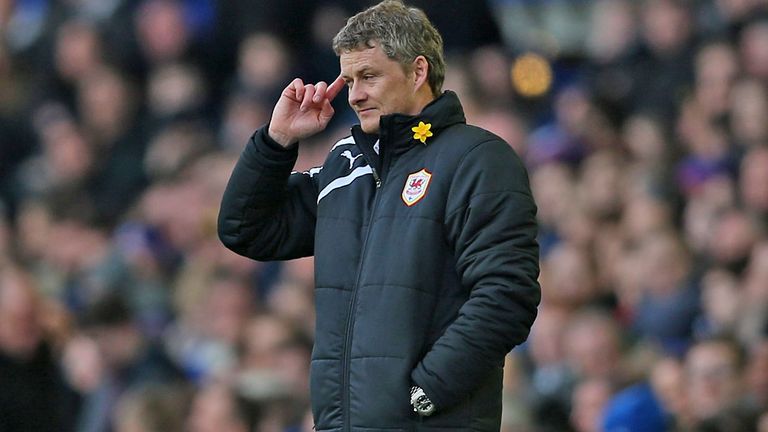 Cardiff travel to fellow strugglers West Brom on Saturday before entertaining Crystal Palace in another crucial Premier League fixture next weekend.
Solskjaer's side are currently 19th in the table, three points adrift of both Albion and Palace, and Dempsey is aware of the need for maximum points against their relegation rivals.
Dempsey replaced Solskjaer for Friday's pre-match press conference, and he explained: "Ole has got lots and lots on this morning, so I have ended up coming over. The one thing he doesn't feel is heat.
"I think the way he has galvanised the football club, certainly in the last month after the Hull game (Cardiff lost 4-0 at home) when it needed to be galvanised, and from then there has been a different feel around the football club.
"He very rarely loses his head. He is cool, he is calm, he is in control of most situations.
"He is not too emotional, he thinks clearly, he is tactically sound, he has got good football knowledge.
"He is just a manager who has lots of ability, and he will deal with this situation.
"From day one, I could see he had an inner strength and an intelligence, not just a football intelligence, but an intelligence that would carry him a long way.
"He is able to be focused on his team and what is required from his players and give clear messages."
On Saturday's trip to West Brom, Dempsey added: "It is a massive game for both clubs. The most important thing is that we concentrate on doing our job, going out there with a focus on what we need to do to get a result.
"We beat Norwich, we beat Fulham, so that gives us a little bit of impetus going into this game in that we can beat those in and around us.
"I think the most important thing is that even though the results haven't gone for us in the last four games, there is a real belief in and around the football club.
"That will take us into Saturday's game in a good place. We have every chance to go there, put on a performance and hopefully get the result at the end of the 90 minutes.
"It could be a tense game. I think the team that is stronger mentally, the team that has the belief to get on the ball and play. If we do that, we will be okay.
"Everybody knows the West Brom game has massive implications in terms of the points.
"There are still six games left after this one, and there are still winnable games after this one, but it would be really nice to go into the next game against Palace on the back of a good result.
"Composure is the key. If you lose your head, you've lost. There has to be a control about the performance, and if it takes until the 90th minute then you can still win the game.
"We are not going to go gung-ho - there has to be a measure of control and belief. They are at home. The onus is more on them than us."