Cardiff captain Steven Caulker says leaks have been a regular problem at the club
Cardiff captain Steven Caulker says leaks emanating from the club have been a concern throughout the season.
Last Updated: 11/04/14 3:04pm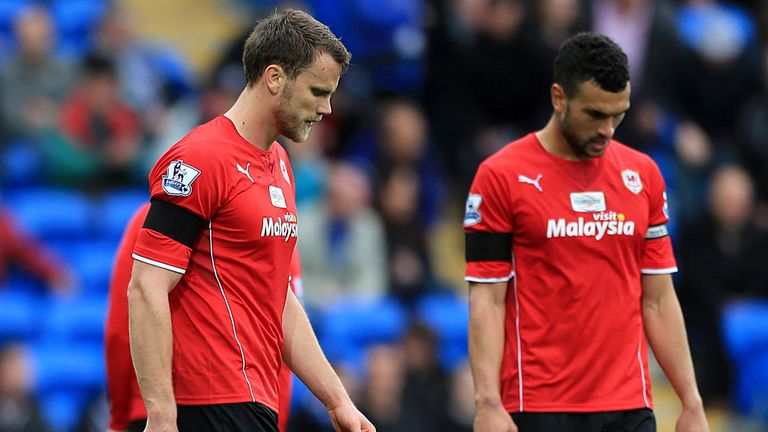 Caulker was speaking in the wake of the news that Cardiff chairman Mehmet Dalman has been in contact with the Premier League over the club's belief that their starting line-up was leaked prior to last weekend's relegation six-pointer against Crystal Palace.
The Eagles triumphed 3-0 in the Welsh capital to leave their hosts second-from-bottom and needing a stunning run of results to avoid making a quick return to the Championship.
Palace's sporting director Iain Moody worked for Cardiff until earlier this season, taking up a post with the London side last November.
But he has denied receiving details of the Cardiff line-up from contacts inside or close to the Welsh club, saying: "That is incredibly, extraordinarily untrue.
"To a certain extent you can guess to within one or two players what the team is going to be. Everybody can."
It is understood that any alleged leak to Palace did not come from any of the Cardiff players.
And Caulker said on Friday that the situation was a source of irritation to the squad.
"To be honest with you, there have been problems like that all season where certain things have been leaked," he said.
"For me, it is frustrating. We need to focus on getting things right on the pitch, not what's going on off the pitch.
"I will be telling the boys that we need to get performances in and get results, not concern ourselves with off the field issues.
"It has obviously come from somewhere. That's down to the gaffer and the staff above him to sort stuff out, and we can just focus on playing football.
Ignore
"A lot of stuff has been going on off the pitch all season, and that has been highlighted in the press. It is important we all ignore all that stuff. Our performances have not been up to scratch of late.
"As far as the boys are concerned, we back ourselves. We've had the support of the fans all season, we've had the support of both managers we've worked under. I find it hard to see where it could be coming from.
"You have a bit of banter with your ex-team-mates and friends in football. Until the Premier League have investigated it and got to the bottom of it, I certainly won't be pointing any fingers.
"We have got to focus on the situation we are in at the moment. Our focus as players is to put things right from last week, really."
Cardiff face a crucial match at Southampton on Saturday and boss Ole Gunnar Solskjaer refused to be drawn on the leaking allegations.
"My week has been about how we can possibly get the best chance against Southampton," he said.
"I just pass you on to Mehmet. Speak to the chairman.
"I have got no reason to doubt any player's professionalism, honesty, integrity, loyalty.
"I am not talking about Crystal Palace. We've got Southampton, and that's my job, to get ready for that game."
Asked if he could rule out any alleged leak coming from one of his players, Solskjaer said: "Categorically.
"When you are in a football club, you stick together. That's the key."